7 Steps for crafting compelling job descriptions for Gen Z
Job descriptions are the first impression candidates have of your company. They set the tone for your hiring process and influence whether or not qualified candidates apply. A full 20% of job seekers won't apply for positions lacking a strong job description.

Demographic changes will see Gen Z and millennials make up 75% of the global workforce by the end of 2025. Research shows that most job applications from Gen Zers are for companies in the tech industry.
Companies looking to recruit young candidates in tech should adjust their hiring process, beginning with the job description. In this guide, we'll share tips on how to write job descriptions that attract top early talent and provide a customizable template you can use to take your current job descriptions to the next level.
What to include in a job description for early tech talent
To create a job description that attracts early talent in technology, you must first understand what early talent wants from employers.
Remember: each new generation brings fresh ideas, beliefs, and preferences to the table. And Gen Z's expectations for their employers and careers differ from those of previous generations.
What is this new generation looking for? Some of the main benefits and general preferences include:
Pay transparency
Flexible working conditions
Meaningful benefits
Strong organizational mission and values
In addition, the labor market as a whole is evolving. Gen Z is challenging what a positive working culture looks like and influencing other generations to scrutinize the benefits employers provide. In many respects, SaaS (Software as a Service) and cloud software companies are leading the charge, offering flexible and people-oriented benefits that are particularly attractive to early-career candidates.
Let's look at these preferences and uncover how you can incorporate them into your technical job descriptions in 7 steps.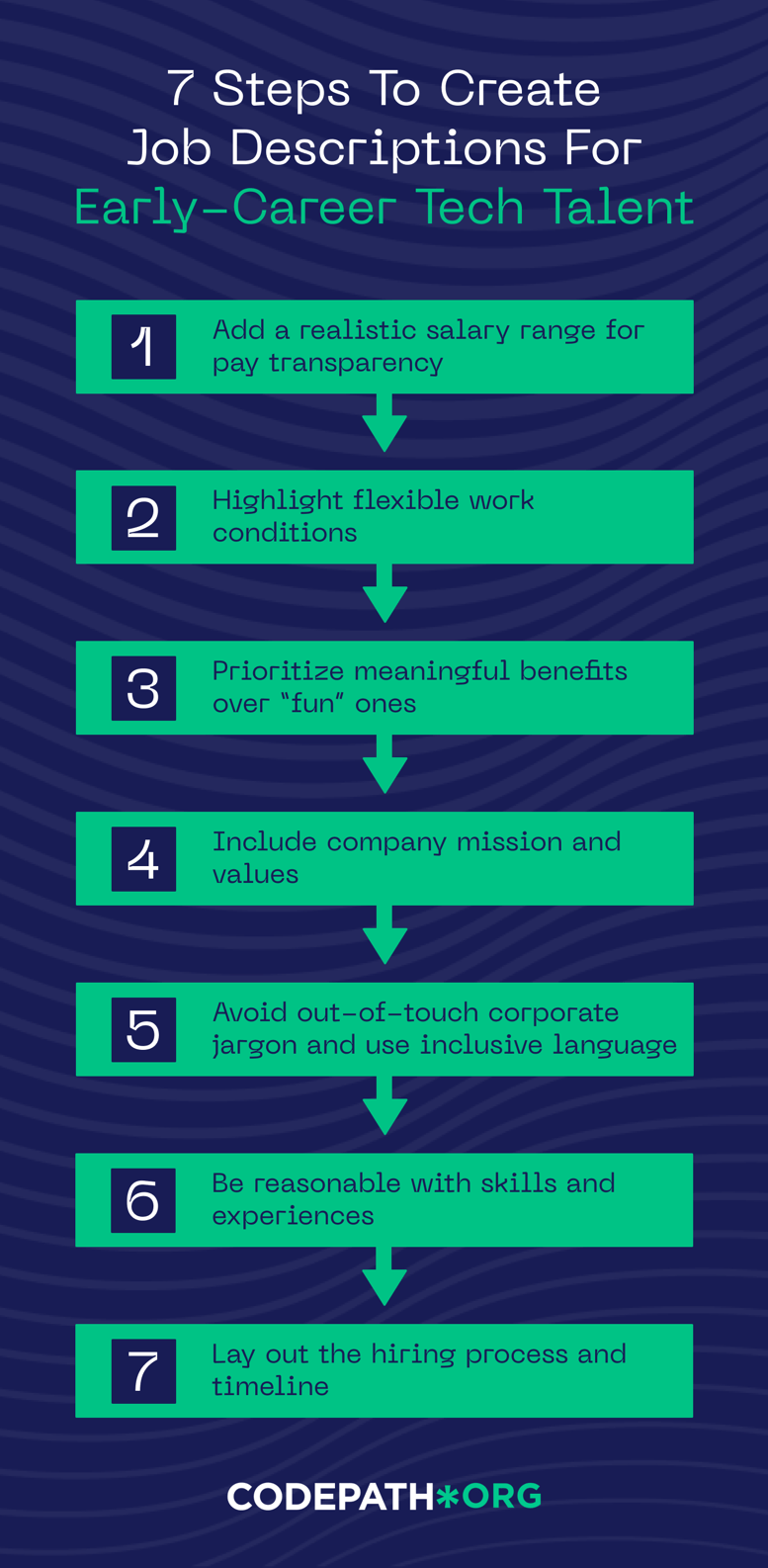 1. Add a realistic salary range for pay transparency
More employers are starting to include salary details in job descriptions, while some states, such as Colorado and California, are mandating the practice.
In other words, companies are adjusting to the shifting expectations of young job-seekers.
Surveys find pay transparency matters to most US college students. But Gen Z isn't the only generation seeking pay transparency, either—91% of all job seekers say salary ranges affect their decision to apply. Most candidates won't apply for a job that doesn't share a salary range.
---

Tip: Avoid overly broad salary ranges. When job descriptions misrepresent what employers want to pay for a role, they do more harm than good. However, companies providing a clear and realistic salary range can leverage transparency as a competitive advantage in the Gen Z job recruitment process.
For example, the conversation intelligence platform PatternAI offers a concise and highly visible salary range for its entry-level React Developer role.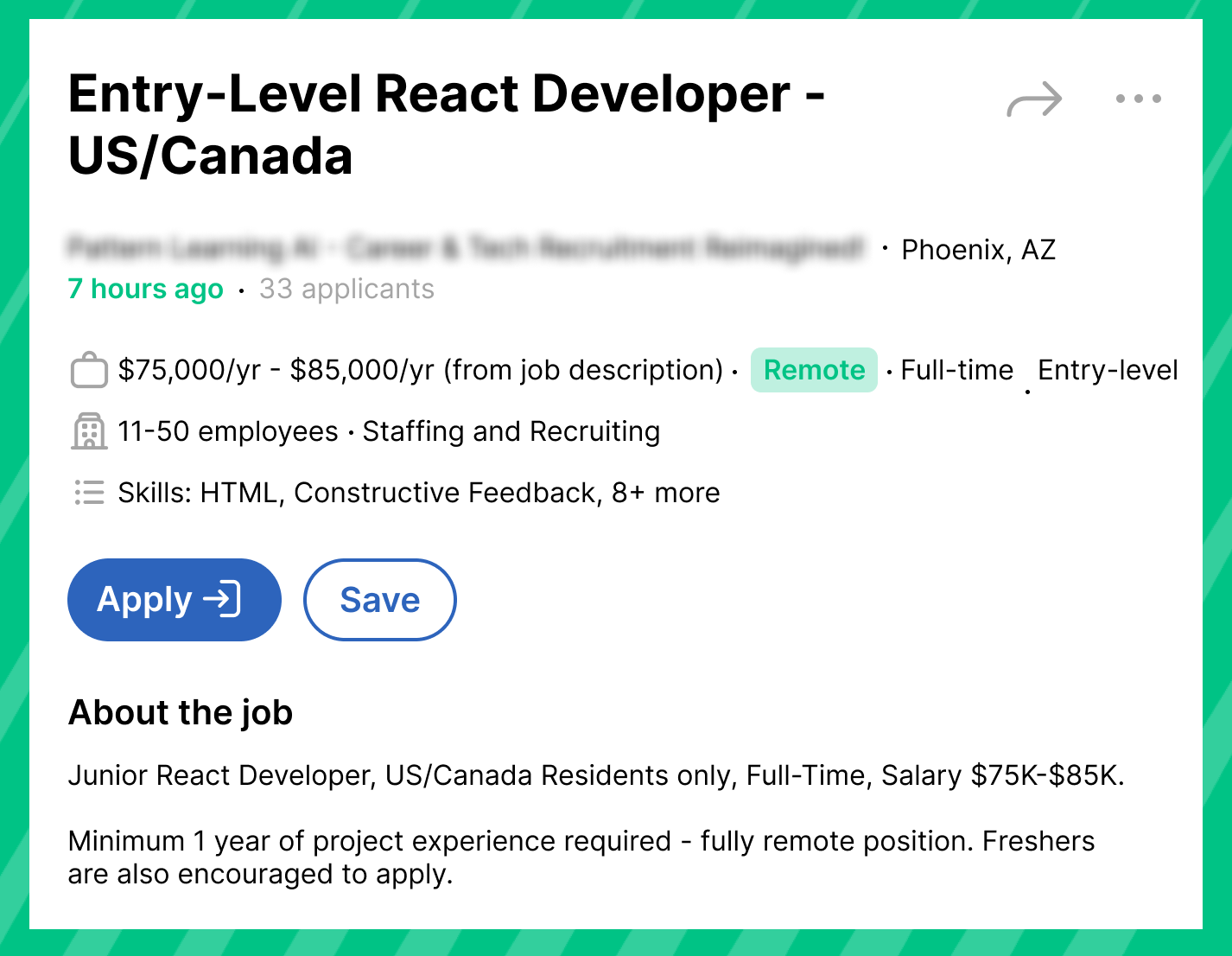 ---
2. Highlight flexible working conditions
Gen Z strongly values a healthy work-life balance. In one survey, 75% of Gen Z job seekers named workplace flexibility as the top benefit they're looking for in an employer.

Flexible work benefits can include:
Shorter work weeks: Do you offer four days per week or seasonal perks like Summer Fridays?
Flexible work hours: Can employees start work later or leave earlier than the traditional 9-5?
Hybrid or remote work: Do workers have remote or hybrid work options?
Leaves: How much paid time off do you offer for health, sabbatical, or other personal reasons?
---
Tip

: Highlight flexible work benefits in your job description or include a link to your careers page.
For example, Hubspot, the CRM, marketing, and sales tech platform, offers employees a paid sabbatical and bonus every five years, in addition to an unlimited vacation policy with a company-wide week of rest in July.
---
3. Prioritize meaningful benefits over "fun" ones
Employees apply for and stay longer at jobs offering meaningful benefits.

Gen Z job seekers prioritize benefits that directly impact their lives. But Gen Z isn't alone here. All workers under 35 are challenging "fun" employee perks for meaningful benefits. Examples include:
Mental healthcare
Medical insurance
Financial workshops, seminars, or coaching sessions
Professional development
Time off for sick leave, vacation, and personal reasons
Student loan and tuition assistance
---
Tip: Build meaningful benefits into your compensation packages and include them with other benefits in your job description.
Duolingo, for example, lays out its benefits directly on its career page. Among the top perks for young people are mental health and coaching benefits, and a first-time home buyer bonus for full-time employees in Pittsburgh.
---
4. Include company mission and values

Mission and value-led companies create communities in the workplace through shared goals. They also give employees a bigger purpose than daily tasks—something that fosters a positive culture and attracts best-fit candidates.

Only 19% of Gen Z talent would work for a company that doesn't align with their values, so referencing these early and often is a best practice for early talent acquisition.

A company can demonstrate its values by including a thoughtfully crafted mission statement on its career site home page or in the header or footer of its job descriptions. Indeed, for example, references its mission at the top of job descriptions posted to its own website.
Finally, make sure to include job descriptions that feel genuine. Candidates will notice if mission statements feel performative or insincere.
---
Tip: Tie your company mission and values back to your company's work and benefits. For example, Patagonia backs its company mission to protect nature by giving employees environmental activism hours.
---
5. Avoid out-of-touch corporate jargon and use inclusive language

Many terms once considered acceptable are now red flags to avoid when looking for a job. The wrong language can lead potential applicants to believe that an employer has unfair pay, a stressful or non-inclusive work environment, and a lack of support.

Here are some cliche terms to avoid in your job descriptions:
Fast-paced environment
Able to multitask
Self-starter or motivator
Competitive salary (without specifying salary range)
Work hard, play hard
Ideal for beginners or recent graduates
He/she
Like a family
Instead, focus on language that demonstrates positivity and inclusivity, including the following examples:
Dedicated
Shows initiative
Willing to learn
Diverse
Start sentences with "You," not "We"

6. Be reasonable with skills and experiences

A recent analysis of four million job listings found 35% of entry-level positions ask for at least three years of prior relevant experience.

The problem? Early talent or applicants from marginalized groups, including women, may be discouraged from applying for jobs even if they have ample education and the necessary skills for success.

One solution: being realistic about the skills and experience needed for the role. Focus on highlighting the must-have skills for the job instead of a sweeping laundry list of nice-to-haves.
Finally, when sharing required skills, ask yourself:
What do I need the employee to already know before starting the position?
Can employees learn this during the training process?
Do these requirements align with a beginner position?
---
Tip: Add one or two sentences saying you still consider applicants who don't meet all the requirements. Webflow invites all applicants to apply by stating, "Even if you don't meet 100% of the above qualifications, you should still seriously consider applying."
---
7. Lay out the hiring process

When you have a transparent hiring process, it helps you attract high-quality talent.
Many job listings don't divulge the steps in the hiring process, so including it is an easy way to stand apart from other positions and encourage ideal candidates to apply.

While you don't need to outline every detail of the hiring process, include a quick timeline of what candidates should expect:
The number of rounds or stages in the hiring process
What each round consists of (e.g., phone or in-person interviews, technical skill assessments like coding knowledge or language tests, background and reference checks)
Timeline for a hiring decision
Remember, outlining the hiring process in your job description helps:
Demonstrate transparency
Ease job seeker hesitations
Set expectations for applicants
---
Tip: Engineering roles often have multiple rounds of interviews. Breaking down the process tells them what to expect.
---
Job description template
Ready to up-level your job descriptions? Download the job description template below with details and tips for attracting ideal Gen Z candidates.
Download the Template