Start Your Career in Cloud Computing
Panel of cloud computing professionals from VMware, SMP Global, Data Bricks, Rock Content and Oracle shared career advice with computer science college students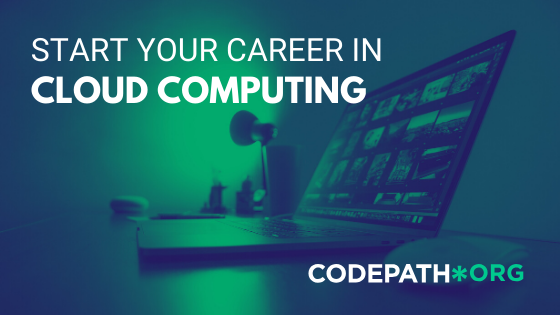 TL;DR
Education is important, but future cloud computing professionals must be committed to a life of continuous learning
Find your niche by engaging in a variety of projects
Make yourself a competitive candidate by collaborating in projects via Open Source and

finding a mentor in your industry
As of late, the cloud is fast becoming the new normal for many organizations. Cloud computing is allowing people to access programs and software wherever the internet is available. Many previously hesitant companies are now moving towards cloud communications to fulfill goals. This is why CodePath hosted a virtual panel for our students to discuss career paths and best practices when entering the field of cloud computing.
Our panel of experts included:
Aimee Bechtle, Head of Cloud and DevOps Engineering Enablement at SMP Global
Neil Bedekar, Cloud Data and Analytics Executive at Data Bricks
Maricela Esmeralda, Cloud Provider Solution Engineer at VMware
Rodrigo Guimaraes, Customer Success Analyst Pleno (SMB) at Rock Content
Rachel Leekin, Kubernetes Architect at VMware
Lynn Wu, Solution Engineer at Oracle
Our panel of experts gave a few keys insights for students hoping to start a career in cloud computing.
Strive to be a lifelong learner
The panel universally agreed that education is a valuable tool, but not necessary to launch a career in cloud computing. For those pursuing an education in computer science, panelists advised to differentiate their resumes by creating a portfolio of projects that demonstrate their skills. These projects help employers visualize an applicant's ability to utilize technical skills and education to create real-world solutions. A master's degree is suggested if a student is interested in accelerating to a management position, but not necessary. More important than education, the panel emphasized the value of being a lifelong learner. The field is constantly changing, and students must be abreast of the latest industry trends, language, and programs.
Find your niche
The world of cloud computing is quickly diversifying which presents future tech professionals a variety of career paths to choose from. So, how do you decide which industry and path to choose? Neil Bedaker of Data Bricks recommended students start their careers at consulting companies. Consulting companies offer students the chance to work on a variety of projects. From there, students can select a company that best fits their passion and career path. Mentors played a large role in many of the panel's career stories. They encouraged students to find a mentor in their industry that is able to serve as a guide. Lastly, panelists encouraged students to engage in networking and internships to assist in discovering their niche.
Make yourself a competitive candidate
As the field of cloud computing becomes more competitive, panelists advise students on ways to stand out from the large pool of candidates. Certifications are a great starting point to make your resume attractive, but not key in obtaining a job. They come at a high cost, so it is best to decide on a focus area before engaging in a program. In addition to technical skills, companies are looking for students with real-world experience. The panel suggested students take advantage of opportunities to earn practical experience through internships or Open Source projects. Finally, companies are looking for candidates who are self-starters, problems solvers, and lifelong learners.
If you are ready to start your career in cloud computing, click here to connect with a tech professional who shares your interests and can mentor you.
If you are a prospective student, visit https://codepath.org/classes to enroll in upcoming courses or sign-up to learn more about future events and industry panels.