The First Year: Transition from Student to Professional
Recruiting and tech professionals from BNY Mellon, Bloomberg, Cognizant, Etsy, and Marqeta deliver best practices to CodePath's Summer 2020 class about transitioning from a student to a tech professional.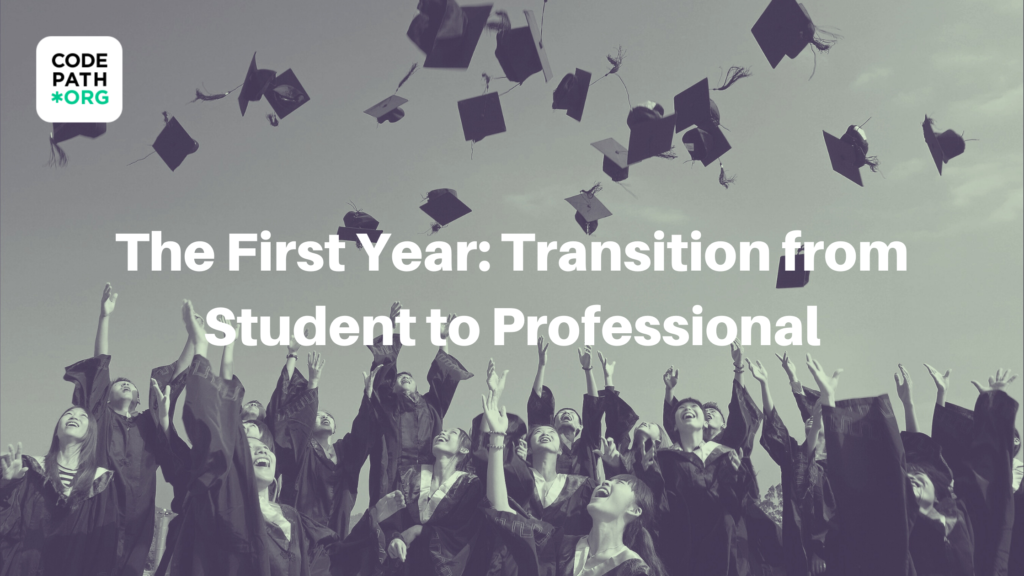 TL;DR
You don't have to have your career wholly figured out. The key is to never stop learning.
Get your foot in the door by creating a strong professional network.
Strong relationships can help to kickstart your career.
Bonus Insight: Explore a career in data science with these helpful tips from a Data Analyst.
In the next few months, many college students will be trading in their research papers and study sessions for a full-time job. It can be a challenging life transition. Whether you are stepping in your first full-time job or seeking to get a foot in the door, CodePath is here. We gathered some of the industry's most knowledgeable recruiting and tech professionals to share best practices for transitioning from student to professional. Our panel included:
Here are critical insights into our students' most pressing questions:
You don't have to have your career wholly figured out. The key is never to stop learning.
Do not worry if you do not have your career path completely mapped out. The key is to continue seeking opportunities to learn. Katie Sundstrom of Etsy started her career in music and social justice. A conversation with a family member inspired her to take a coding boot camp that reignited her problem-solving passion. She started her career as a Software Engineer and never looked back. Bethany Smith of Cognizant began her career in business marketing. She received a marketing strategy internship at Nike. During her time at Nike, she realized the value of analytics that led to a career in consulting for retail and consumer goods. With a little guidance and research, students should have no problem finding their niche.
Get your foot in the door by creating a strong professional network.
Your network determines your net worth. Referrals and recruiter connections are valuable ways to get your foot into the door. Our panel of recruiters urged students to start connecting with companies via LinkedIn early and often. Students can invite recruiters to a 10 min Zoom informational meeting. Students should take the time to learn more about the company culture, operations, and open roles during this meeting. Students can also reach out to current employees to gather more information. If the informational meeting goes well, the employee may offer a referral that will increase the likelihood of being hired. To complement the call, students can catch a recruiter's attention by creating a stellar resume. The panel recommended students tailor each resume to match the role they are applying. If you do not have a lot of experience, please incorporate relevant school assignments or passion projects to supplement your resume. Lastly, make sure to do multiple resume review sessions with friends and other professionals to ensure accuracy and prevent errors.
Strong relationships can help to kickstart your career.
The most important part of this transition to professional life is to believe in yourself. Panelists encouraged students to apply early and do not sell yourself short. Negotiate even if this is your first role. Bianca Martinez, Recruiter at Bloomberg, urged participants to consider the cost of living and research the position's market rate before accepting an offer. Additionally, do not feel pressured to accept an offer on the spot. After receiving a role, students can continue the transition by building strong relationships within the company. The best way to do so is to seek mentorship in your department. Mentors can help chart your career path and connect with other employees in the company. The human resource department can assist in finding ways to connect first-year employees to the company culture. Many companies onboard new employees in cohorts or have mentorship programs established to help new employees.
Bonus Insight: Explore a career in data science with these helpful tips.
Data science is an emerging career that has piqued a keen interest in many recent grads. As an emerging career, many students had questions on how to break into the industry. Luckily, Bethany Smith of Cognizant graciously delivered best practices to explore a career in data science. To start, Smith suggested obtaining a master's degree if students want to excel. She also warned to beware as data science careers become more popular companies are using the terms AI and data science more often. Although the words are interchangeable, the roles may not be directly related to data science. Smith encourages students to do their research and create targeted questions to ask before applying for a position. Data Science interviews are technical and hands-on. To gain experience and practice for interviews, Smith suggests students engage in passion projects and work with sites like Kaggle.com to practice writing code and running data analysis.
The transition from student to professional can be difficult, but with proper preparation and a vast network, success is inevitable. For additional advice, you can view the full event here. If you are interested in strengthening your network, even more, consider joining CodePath's no cost mentorship program to connect with a seasoned mentor in the tech industry.