CodePath Taps Tech Workforce Development Expert as New Chief Operating Officer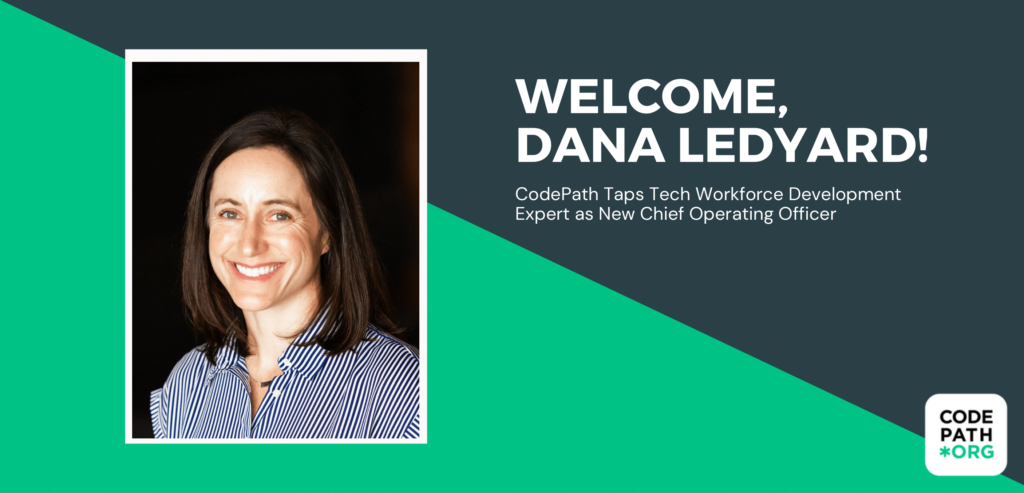 Dana Ledyard joins CodePath to scale early career opportunities for underrepresented students and close the tech industry's talent gap
Today, CodePath.org, the national nonprofit that works with historically underserved college students in tech, announced Dana Ledyard will be joining as chief operating officer.
Dana brings nearly two decades of experience in education, technology and workforce development. Most recently, she served as VP of Strategy at Catalyte, a tech training and talent development platform, where she worked with public and private employers on their talent pipeline needs. Prior to that she served as the Managing Director of Girls Who Code, where during her tenure, scaled from serving 20 girls to 10,000 worldwide.
"This year, CodePath doubled our footprint and enrolled more than 5,000 students into our programs, showing our rapid growth and impact," said Michael Ellison, CEO and co-founder of CodePath.org. "We are thrilled to have Dana join our team, as her experience in education and the future of work will help employers tap into our student talent to recruit the next generation of tech leaders, builders and entrepreneurs."
CodePath.org is transforming the way computer science is taught across the country, and supporting students that are historically overlooked in the sector. Currently, 7.4 percent of tech employees are African-American, and 8 percent are Latinx, signaling the need for interventions where students of color are receiving the access, support and training to achieve technical mastery and successfully launch careers in software engineering. CodePath also recently launched their SITE program, which aims to provide incoming college juniors with paid work and learning opportunities that will give them the experience and skills they need to persist in their computer science journeys.
"People of color and women are largely underrepresented in the tech sector, and we must do more to provide them with the resources and skills to not only enter tech but stay in it," said Ledyard. "CodePath has been fundamentally changing the way that employers think about their recruitment, as well as how universities support students. I couldn't be more excited to join their mission in building a more diverse talent pipeline and advancing equity in tech."
Ledyard completed an MBA at the Haas School of Business at UC Berkeley, and a BA in Economics from the University of North Carolina, Chapel Hill where she studied as a Morehead-Cain scholar. Ledyard also serves as President of the Board for the nonprofit Code in the Schools and is a member of the Advisory Board for the Baltimore Chesapeake Bay Outward Bound School. She lives in Baltimore with her husband, two sons, and pandemic rescue dog Sally.