Innovation on Display at CodePath's First South Florida Demo Day
On June 8, we hosted our first demo day in South Florida, giving four teams of CodePath alumni the opportunity to pitch innovative mobile app ideas to a panel of judges made up of local corporate executives and community leaders. Participating teams were awarded funds and resources to advance their work.
The four teams of emerging engineers from Florida Atlantic University (FAU), Florida International University (FIU), and Florida Memorial University (FMU) presented mobile apps covering a wide range of industries and capabilities.
Plasticiti is a brain-training app with a focus on accessibility. It is designed to help differently-abled people gain new skills and connect with each other.
Tailored provides an all-in-one solution to tailors and fashion designers that maximizes efficiency while helping to streamline customer interactions and expand their networks.
Sorting Synth is a digital musical instrument that audifies computer sorting patterns with visuals. The app runs the algorithms through a 70s retro synthesizer and visualizer with user-defined controls and effects.
Paper Clutch bridges the gap between physical and digital worlds by providing digital wallet space to manage receipts, boarding passes, tickets, memberships, and more.
The panel of judges, who have more than 60 years of tech-sector experience between them, represented organizations including the global business and tech consultancy Slalom and award-winning AR developer Magic Leap.
Charles C. Irizarry, CEO of Brim & Company, is a serial entrepreneur and leader in the Miami tech scene with a background in distributed computing systems and cloud-based software.
Natalie Perez, director of software engineering at 3D Media and CEO and co-founder of NEDD Tech, brings a strong passion for teaching software development and has served as a speaker and instructor at various code camps, conferences, and nonprofit organizations like Girl Develop It.
Dan Keeling supports the Florida market as a managing director at Slalom and has experience in industries ranging from energy and telecommunications to manufacturing and software. He is passionate about fostering growth in the Latin American community.
Olga Raskin, now a senior manager at Magic Leap, has built software and engineering teams for companies including IBM, Chewy, and Royal Caribbean Cruises Ltd.
The panel judged the teams on technical rigor, design, and excitement around the product. While the panel of judges was impressed by all of the presentations, they awarded the top spot to Sorting Synth, a team of alumni from FAU.
"It means a lot to us to get this win," said Kelly Mylett, a member of the winning team, Sorting Synth. He credited CodePath with helping the team build and implement their vision for the app. "I encourage students to take a course at CodePath because it is the first remote learning platform I've used in my educational career that actually delivered on its promises."
"[CodePath] helps a lot with the fundamentals that you need for a career in tech," added Emrys Jenkins-Taylor, another member of the Sorting Synth team.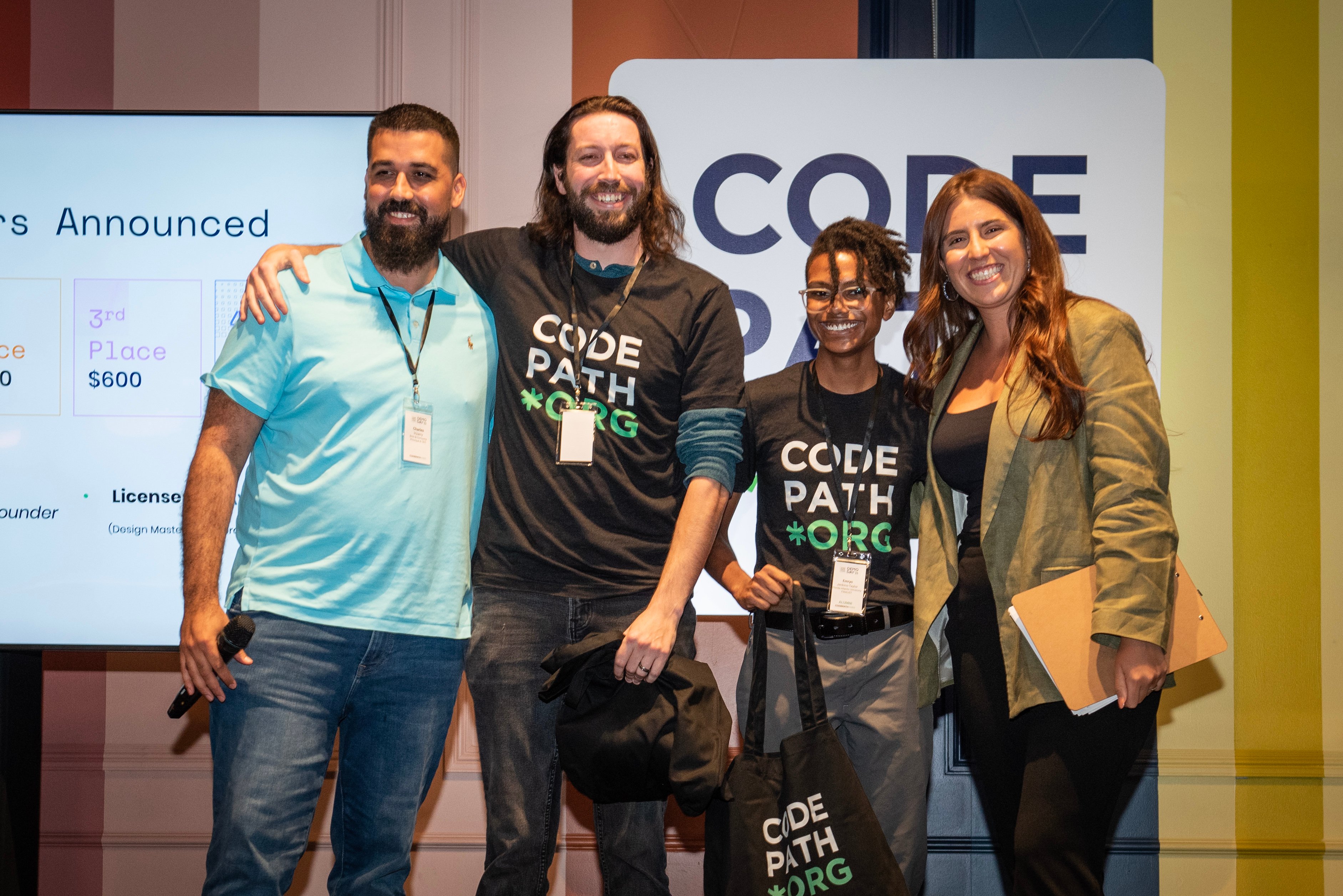 Following the presentations and awards, attendees from the local tech community, students from local colleges and universities—including FAU, FIU, FMU and Miami Dade College—had the opportunity to network and celebrate the teams.
The demo day was just one component of our larger investment in emerging tech talent across South Florida. Through support from local partners such as Knight Foundation, JPMorgan Chase, Miami Dade County and Tech Equity Miami, we offer CodePath's Pathways to Tech program, which includes technical interview practice, web development courses, and early paid work opportunities facilitated between employers and aspiring engineers.
We have served more than 500 students in South Florida to date and enrolled 328 students in 2022 alone—a 147 percent increase from the previous year. Our goal is to increase diversity in entry-level tech jobs within three years and, ultimately, create a sustainable pipeline connecting South Florida residents to meaningful career pathways in tech.
"CodePath has a mission to reprogram higher education to create the most diverse generation of software engineers, CTOs, and founders. And that's exactly what you all have become," CodePath Co-Founder and CEO Michael Ellison said to the teams in his closing remarks.
Watch a video recap of our demo day: