Meet Emerging Engineers Summit Keynote Speaker Sheena Allen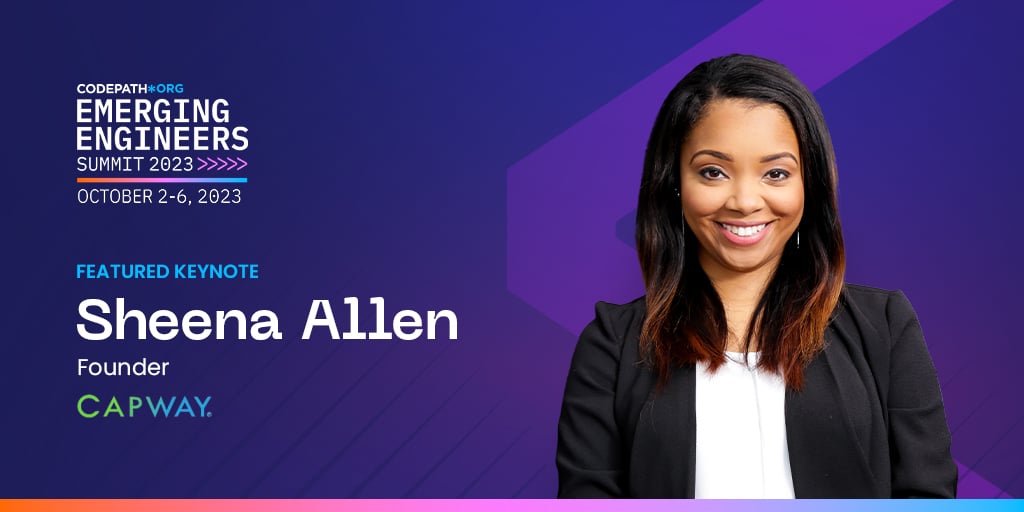 As part of CodePath's Emerging Engineers Summit (EES) — taking place October 2-6, 2023 — we are excited to feature keynote speakers at the forefront of the tech industry. Speakers will share their inspirational stories and advice, demonstrating through their own experiences the importance of finding the right talent when scaling a company.
In advance of EES, we'll be sharing a series of short Q&As with each speaker to highlight their backgrounds, inspirations and advice.
First up in this series is entrepreneur Sheena Allen!
How did you first get started in tech?
My first "idea" in tech was early in my college years. I wanted to create a website that would compete with Facebook. I didn't know much about the tech world, but felt I could create something that had features I felt Facebook was missing. However, I didn't know how to code, had no money, and lacked the resources, so that died out.
During my senior year of college, I had another idea. This time it was for a mobile app, and I was determined to see the vision come to fruition. That was the first app under what would become Sheena Allen Apps, a tech studio that housed five apps I created and generated millions of downloads.
What's the best advice you've received in your career?
"Not all advice is good advice."
What are you most excited about right now?
I'm just always excited about creating. Creating something people love. Creating something people can use that makes a difference in their life. Innovating and creating something game-changing is always the goal for me.
How do you get inspired?
When I am surrounded by people also doing amazing things, it inspires and motivates me to go harder. I love being with people who push me up a new level.
* Responses have been edited for length.