Meet Texas State's Victoria Jordan: She Starts her First SWE Internship with Amazon this Summer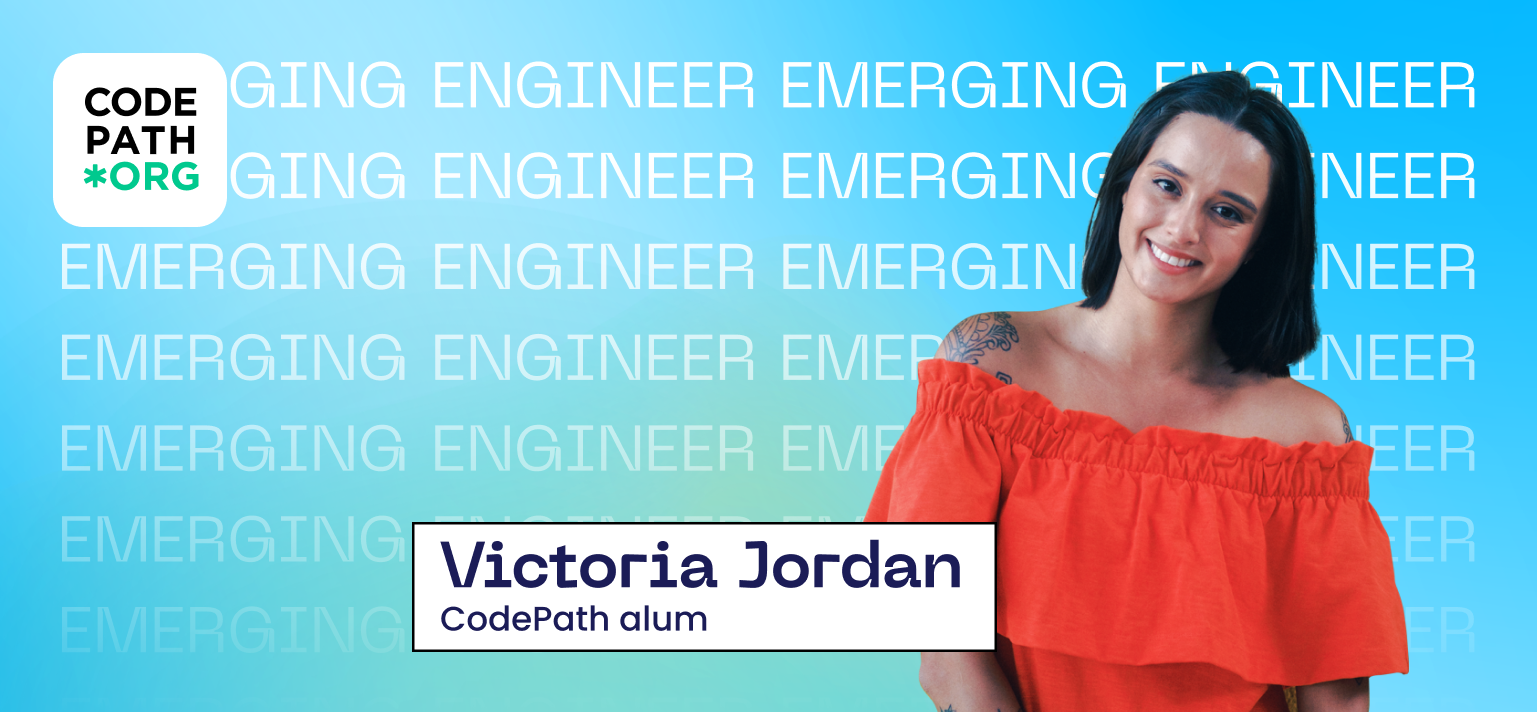 When Victoria Jordan first enrolled in CodePath's Technical Interview Prep Course, she was skeptical of the program. As a first-generation student and Latina, there were numerous hurdles she knew she'd have to navigate if she wanted to start a career in Computer Science. A free 10-week course designed to do just that seemed too good to be true.
After just one week, Victoria realized how important CodePath would be in her CS education and career as a Software Engineer. The course showed her how to navigate a Technical Interview and how to solve the algorithm problems asked by all the top tech companies.
81% of CodePath's students will maintain careers in tech for more than a year after graduation –compared to the 61% national average.
Victoria --a student at Texas State University-- has seen firsthand how vital her time at CodePath was.
"After taking the CodePath course, I feel miles ahead of all my classmates in terms of just knowing about the industry and feeling prepared," she said. "It's really sad to see all these students struggle, and I'm like, 'I swear if you take this CodePath course, it will change your trajectory.'"
Victoria Jordan, who also works as a CodePath iOS Tech Fellow, will start an internship at Amazon in Seattle this summer. She fully credits CodePath for helping her secure such a competitive role.
Combining creativity and Computer Science
I'm a student at Texas State University. Initially, when I transferred, I was an Electrical Engineering major; going through that curriculum, I realized I enjoy software much more. There's a lot more creativity in it. I'm an artist, so Computer Science is a great avenue to combine my current interest in Tech with my creative side.
Finding CodePath
I wasn't sure about it [CodePath] because it almost sounded too good to be true. I was like, 'It's free? I just have to sign up?' The time commitment also wasn't exorbitant. They're not asking you to commit a ton of time, and they don't have unrealistic expectations, so I expected it to be helpful.
I honestly didn't expect it to be as helpful and integral to my journey as it was.
The content is well-crafted --seeing the curriculum, how it's all presented, and the skills of the teachers leading the courses. It was impressive and well put together. It made me all the more excited once I got started.
Jumping hurdles as a first-gen, Latina
CodePath made success feel possible.
Everybody finds challenges in Computer Science. For women, especially, all the barriers and obstacles are higher. And that's also true for minorities, people of color, and first-generation students. Incredibly, CodePath's target demographic is those kinds of students.
CodePath gave me the tools to feel confident about getting a job and going into interviews. It made getting a job feel possible.
A reoccurring thing for first-generation students is a need for more guidance. None of my family members were in corporate roles or tech and could tell me: 'This is how the industry works, and this is what is expected of you.' CodePath taught me a lot of those things.
CodePath gave the context and guidance for how to get into the industry and succeed in interviews.
They did a great job of demystifying how to implement data structures [in the real world]. I liked how they ran through specific examples.
I'd see problems on LeetCode.com, and it was cool how somebody would walk you through those problems at CodePath and methodically explain them to help you solve them.
Online, getting a straightforward answer is difficult, and there are many ways to solve these problems. CodePath just took the complexity out of it and gave everybody tools and walkthroughs to solve difficult things.
Also, their career fair allows you to use these skills after they teach them.
Getting mentorship and guidance from real-world engineers
My group had a great mentor from Lyft. CodePath took somebody that's a Senior Level Engineer and humanized him. They took them off the pedestal, so I could better imagine being in that role or knowing somebody in it. Having them as a weekly mentor to be understanding and positive and walk us through problems made me think, 'Oh my God, I can do this!'
Plans for her future
I accepted an offer with Amazon this summer as a Software Engineer Intern in Seattle. It was completed thanks to CodePath. I would not have known how to solve the different steps of the interview without them!
Interested in CodePath's Technical Interview Prep course? You can learn more here.