Intro to Mobile App Development: A Course for Beginners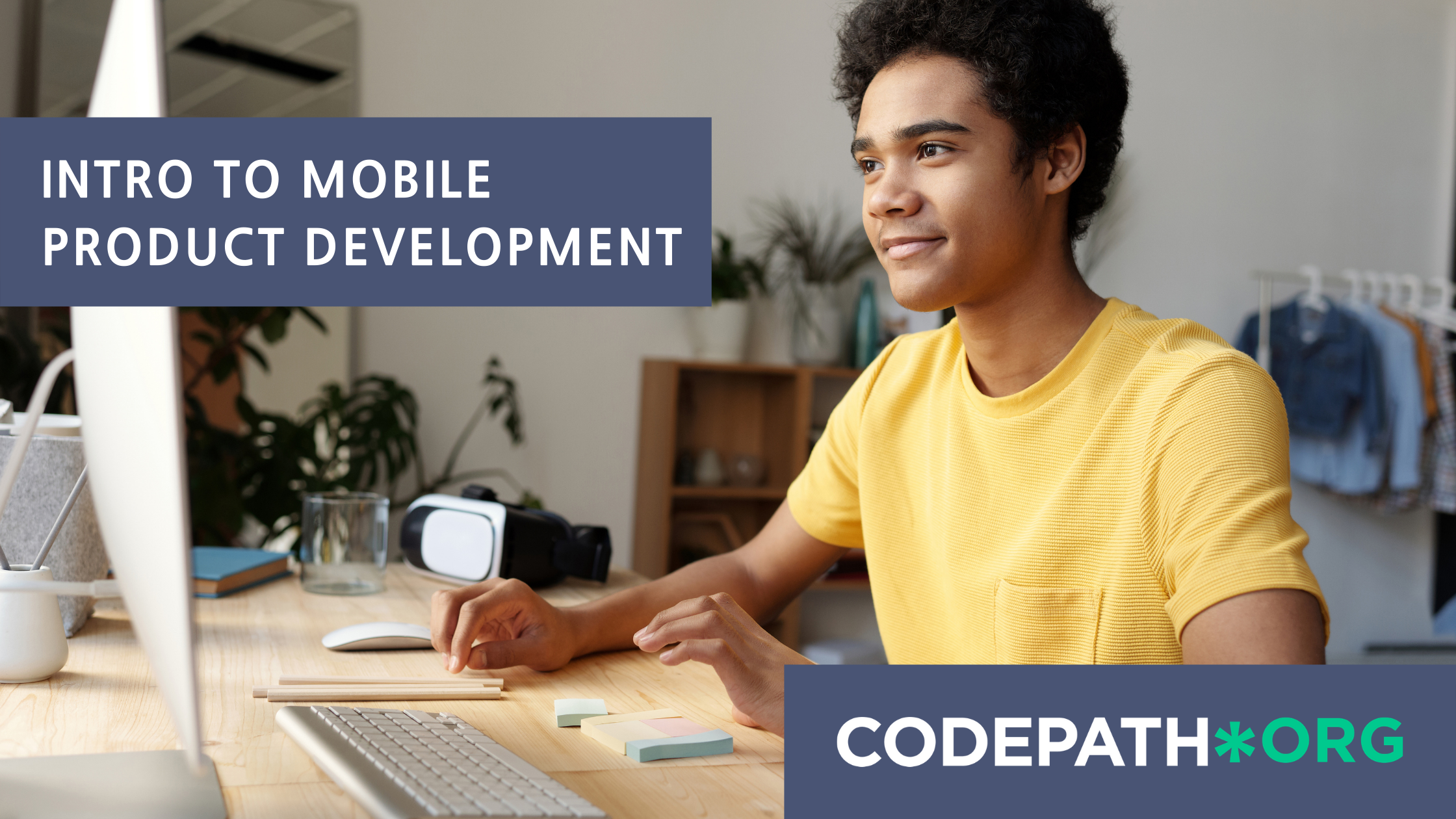 College freshman and sophomores from across the country can now learn what it is really like to be a software engineer. CodePath is excited to offer Intro to Mobile Product Development, a free, eight-week online supplemental course for college Freshmen and Sophomores who are unsure if computer science careers would be right for them.
Many students think of computer science as a boring or very technical subject. In actuality, a career in computer science can come along with creativity, innovation, and social good. A student's decision on what to study in college can determine the trajectories of their careers post-graduation. This course offers students a chance to build their own apps from scratch. The hands-on curriculum will have students conduct product planning sessions, design wireframes/prototypes, and write product specs. Not to mention, students will also get exposure to industry experts at panel events. Intro to Mobile Product Development is designed to help students immerse themselves in the fundamentals of entrepreneurship and product development.
"The experiential learning involved has altered my perception of the apps I use daily, and has led me to consider a career in Mobile."

–DREW RONK, Penn State University, Spring 2020
Expert Led
Intro to Mobile Product Development takes students through the process tech teams and entrepreneurs use to turn an idea into a new product or service. Caren Chang, a software engineer at Google, will be serving as the lead instructor for the course, and she will be accompanied by other industry professionals. By getting a chance to work with established product developers, students will have access to the insight and inspiration of teachers who are movers and shakers in the tech industry. Chang is an experienced engineer with a passion for helping the next generation find their way into the tech industry. In addition to acting as a curriculum designer and instructor for CodePath's courses, Chang teaches for nonprofits Level Playing Field and Women Who Code, and mentors for students in the CODE2040 program.
"It taught me so much without being too overwhelming."

–HEBA SATTAR, University of Illinois at Chicago, Spring 2020
Why Intro to Mobile Product Design?
Computer science is one of the five college majors with the highest starting salaries, as reported by Indeed.com. Catching students early in their education can help them find a path to a career that can empower them financially and socially. The Intro to Mobile Product Development course bridges the gap for students who come from underserved communities, inspiring them to see the possibilities for themselves in a tech industry that has few faces that look like their own. Women and underrepresented minorities makeup 44% of CodePath's students, and 42% of students land tech internships after a CodePath course. Once enrolled in a CodePath course, students gain access to over 200 industry mentors for guidance along the way towards a meaningful career in tech.
Apply Now
The Intro to Mobile Product Development Course will run from Feb 13 to April 3, 2021, with virtual meetings on Saturdays. While the course is free, students must apply here and then will be responsible for setting up their working environment before they will be admitted to the course. Early admission applications are accepted until Jan 6, 2021, and the final application deadline is Feb 6 2021. For more information, go to CodePath.org.