On the Path: An Interview with Fawziyah Alebiosu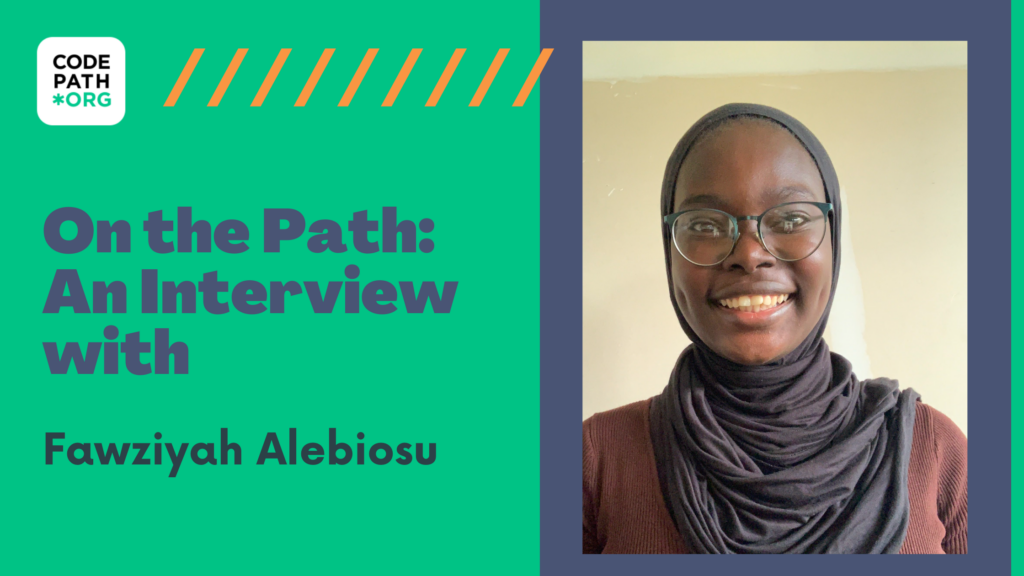 On the Path is an interview series with CodePath's student community, highlighting our students' stories, accomplishments, and journeys to become software engineers.
---
As they move through college and beyond, many young people doubt the path they're on. For Fawziyah Alebiosu, there has never been any doubt. "It's always been computer science," she says.
When she was 15, she met an alumna of her high school, in Prince George's County, MD., who had completed the Girls Who Code program. Inspired, Fawziyah and a friend applied – it helped that the organizers were handing out free bus passes as an incentive. Fawziyah and her friend joined the program and got their first introduction to "what computer science could be."
After completing the eight-week Summer immersion program, the girls got their first computers.
She has never looked back.
Fawziyah immediately saw all the possibilities that software engineering could unlock. "Because I come from a low-income family, it really stuck for me, because I felt like I could practice programming without spending so much money. I had graduated from this program. They had given me this free computer, and all I needed to do to build a website was just Google it, and use the resources on the Internet to continue to learn."
That access to information changed her life. "I'm literally a product of access," she says.
Fawziyah graduated from high school a year early and went on to attend the University of Maryland's Global Campus program in computer science, but soon found that many of her classes were "very, very theory based." She needed practical skills and a way to move into the industry, so she turned to CodePath, which offered her the opportunity to take four courses: Intro to Mobile Product Development, iOS, Android, and Technical Interview Prep.
In the process of learning, she built her first Android app and loved the experience.
CodePath was a game changer for Fawziyah, not just because it gave her key skills. More importantly, she says, it advocates for minorities in tech and makes them technically proficient. "I think that's honestly the biggest thing," she says, since for her, the worst thing she can be called is a "diversity hire."
"Anybody who's ever said that to me, it has never hurt me, because I know that I'm very capable. I have proof. I have so much proof that I'm capable in comparison to my peers."
She adds, "I'm so grateful that they're actually giving me the skills to make me competent, because that also means that I'm confident – and it means that when a company gives me an offer, I know that I deserved it because I literally did the work and I am just as competent. I'm very grateful for that."
Now 20 years old, she sees Android app development as a perfect way to build products that make both information and capital accessible to millions of people worldwide. She hopes eventually to work in the banking industry – of 11 internship offers this Summer, she accepted at Capital One.
"I think mobile development is very, very much a good vehicle for accessibility because everybody has a mobile phone," she says. "You can reach so many people with that. And so for me, learning how to do mobile development through CodePath was like a game changer because I got a whole new set of skills I literally did not have before. And it's really fulfilling my values and my mission."
In the long term, Fawziyah also wants to work to ensure that there are more women – and more people who look like her – in the tech industry. "That's my biggest goal, to make sure the industry is sustainable or durable."
As importantly, she says, she wants to ensure that women of color don't just show up with the skills they need, but stick around. In the long term, she says, it's equally important that women like her are staying in the industry "and they're having good and fulfilling careers."
---
You can learn more about Fawziyah and her professional life here.
To learn more about CodePath's free computer science courses for college students, visit codepath.org/classes.