On the Path: An Interview with Tony Murillo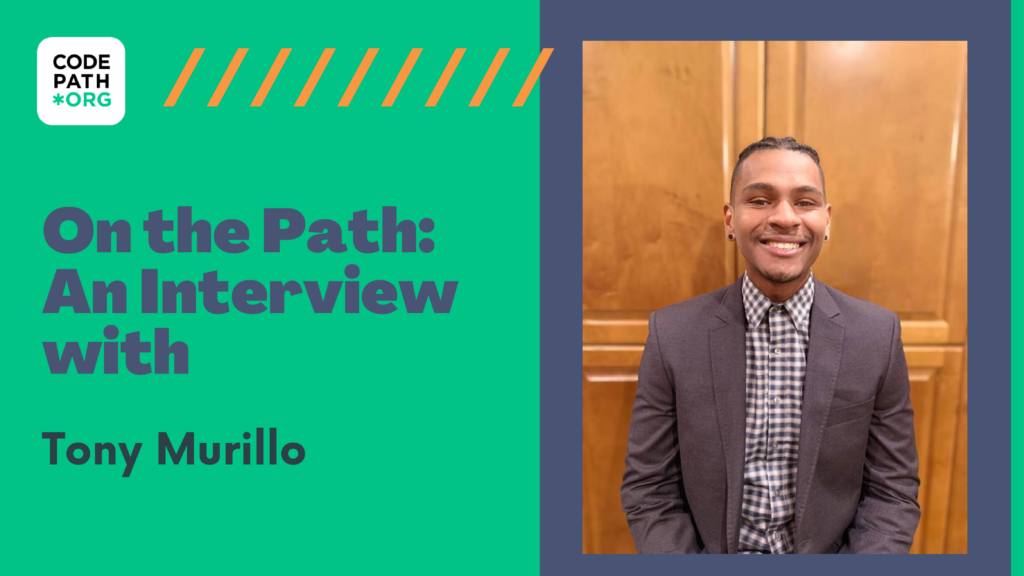 On the Path is an interview series with CodePath's student community, highlighting our students' stories, accomplishments, and journeys to become software engineers.
---
"Computers and technology have been 'my saving grace'," said Tony Murillo. "The computer really kept me out of trouble."
Born in San Francisco, Murillo grew up mostly in San Diego, where he and his mother, a nurse who had grown up in foster care, experienced homelessness more than a few times.
"Obviously, being homeless is not fun," he said. "When you're a kid, you kind of make the best of it."
Living in emergency shelters, he found they were more inconvenient than anything, especially for a teenager craving a normal life. For one thing, the shelters would close early and open late. "You're out at 5 a.m.," he said, "and you show back up at 8 or 9 p.m." So after getting out of school at 3 p.m., he'd have lots of time to kill.
"I would go to the downtown library here in San Diego and use the computers," he said.
But the terminals were in high demand, so Murillo often found himself waiting for the chance to use one. As he waited his turn one afternoon, he glanced down at the table and saw that another patron had left a book: Programming for Dummies.
"I'd heard about programming, but I'd never looked into it too much," he said. Murillo began perusing the book – a decade later, he forgets whether he checked it out or not – and soon began teaching himself rudimentary programming.
Before long, he was building and selling customized mission files for players of the online military simulator game Arma. "There's this whole market for reselling your creative ideas," he said, much as players do in other multiplayer games like Minecraft. "I just started poking around the game and reverse-engineering stuff."
He was 14.
Murillo would continue to learn programming in high school, even as he bounced between family members' care and spells of homelessness. Eventually, his mother gave up custody, unable to care for him herself. By then, he said, "I was kind of already there in terms of taking care of myself."
What many people don't understand about homelessness, he said, is that it often comes with a whole set of health and addiction issues, and usually repeats itself. "You're not just homeless once," he said. "It's usually an ongoing thing."
Making his way through high school – Murillo credits Helix Charter High School for pushing him "to do things that you maybe don't necessarily want to do" – he would soon earn a spot in the computer science program at the University of California San Diego, where he's now majoring in machine learning, one of the basic building blocks of artificial intelligence (AI). "The whole goal is to be able to move freely between machine learning and software engineering," he said.
But getting a foot in the door of entry-level jobs and internships has been a challenge. As a working student, he has seen first-hand that when career fairs would come to campus, "it was just a giant waste of time." Lines to meet recruiters, he said, were "absolutely ridiculous."
"If you were lucky, you would maybe meet, especially with having to go to work and class, maybe one or two recruiters that had already talked to thousands of kids. It just didn't lead to much."
A 12-week program in intermediate software engineering with Code Path broke down technical interviews in a new way, he said.
"CodePath does it differently," he said. It lays out a well-defined system that doesn't just urge candidates to do practice problems. It emphasizes soft skills.
It also provided unprecedented, one-on-one access to recruiters, putting him in front of nearly two dozen over the course of a three-day process. That means the world in a space where software engineers are competing just to be seen. "It's being taken seriously," he said.
At 24, Murillo is "at the home stretch" at UCSD, just a few semesters shy of graduating. He'd have finished by now, but he had to take time off to care for his mother. A neck injury put her on disability, forcing Murillo to "refocus" as she recovered. "I had her move in with me to try and help her out," he said.
His work with CodePath helped him secure a summer 2021 software engineering internship with Pittsburgh-based Dick's Sporting Goods. It will give him an opportunity to consider how a sophisticated retail company like Dick's might use tools like AI. At some point in the near future, he said, "pretty much all businesses will use some sort of AI," if only to make routine processes run more smoothly.
Murillo often finds himself having to explain AI to onlookers who worry that robots will soon take over the world.
"Any time I get in an Uber and someone asks me what my major is, they're like, 'Oh, I'm going to be out of a job next year,'" he said with a laugh. "We're really far off from that."
---
You can learn more about Tony and his professional life here.
To learn more about CodePath's free computer science courses for college students, visit codepath.org/classes.