1000+ students & 30 companies to attend CodePath's Virtual Career Fair
We are excited to introduce almost 1,200 talented CodePath graduates to recruiters from 30 major tech employers at our September Virtual Career Fair this month.
As we continue to scale exponentially, CodePath is increasingly recognized as one of the country's largest and most effective organizations focused on building diversity in the tech talent pipeline.
Our Virtual Career Fairs are integral in helping us achieve this mission. After six years, these events hold a solid reputation for connecting high-performing, well-prepared and underrepresented talent with an impressive roster of employers.
In 2021, 53% of candidates were offered a technical role, and one Fortune 500 company made more than 50 hires from the connections made at a CodePath Career Fair.
This month, close to 1,200 qualified software engineering candidates from 70+ campuses nationwide will be meeting representatives from Asurion, Bentley Systems, Bill.com, Bloomberg, Cardinal Health, Cognizant, Conagra Brands, ConEd, Credit-Suisse, Deutsche Bank, Discovery, Eide Bailly, FactSet, Google, Intuit, Lockheed Martin, M&T Bank, MathWorks, Microsoft, Mutual of Omaha, Nerd Wallet, NVIDIA, Place Exchange, Restaurant Brands International, SambaNova, SAP, ServiceNow, SiriusXM, The Gap Inc., and Verisk Analytics.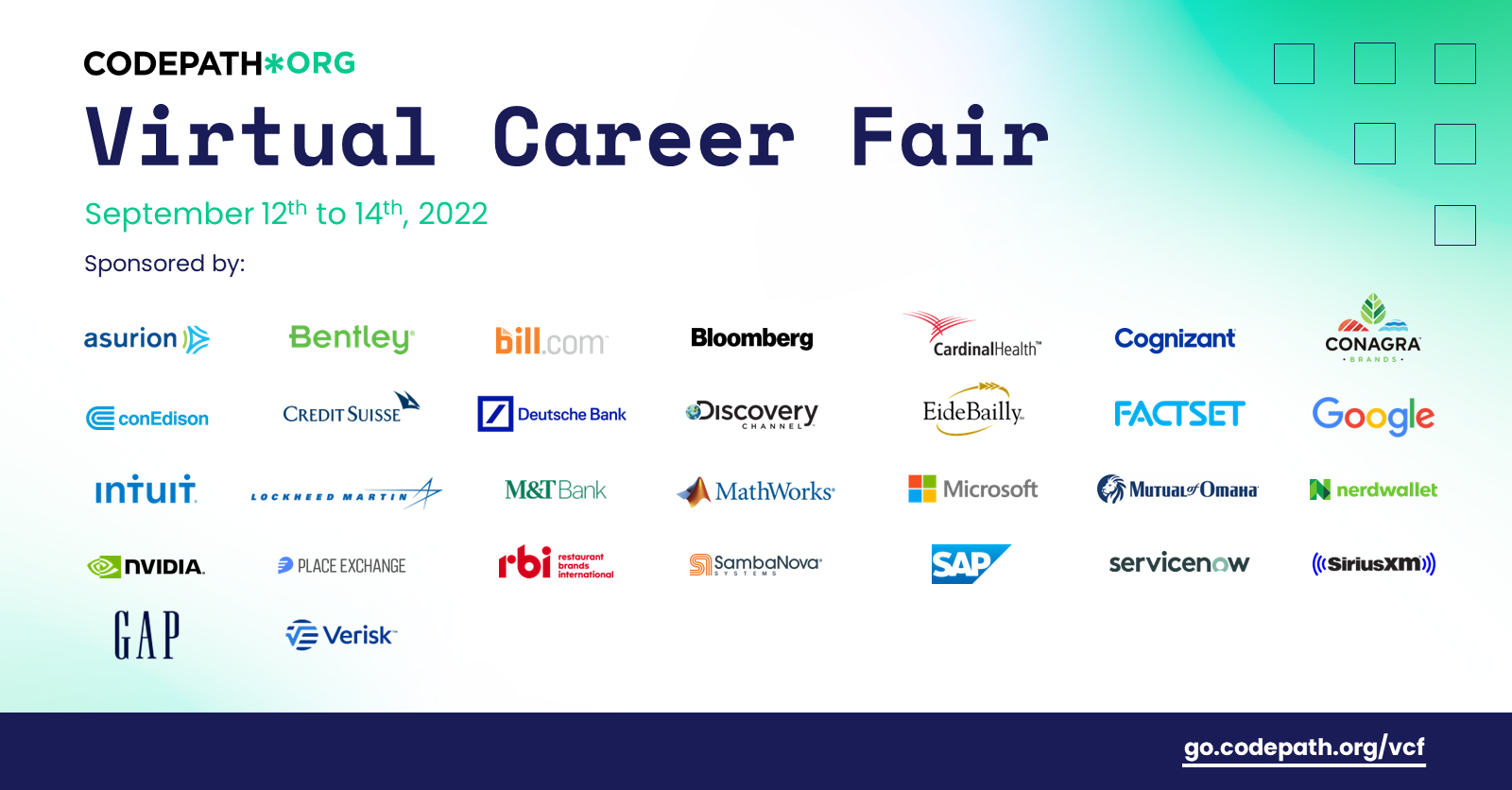 As graduates of our pioneering courses, every candidate has been prepared to excel in software engineering roles through 12 weeks and 120+ hours of rigorous, practical training, far exceeding the requirements of a standard computer science program.
The CodePath Virtual Career Fair matches candidates and companies on multiple factors, ensuring a best-fit experience for our students and participating company partners.
Hundreds of students have already attended pre-fair info sessions, where each company can share information on their culture and workplace and showcase the opportunities available for CodePath graduates.
The Virtual Career Fair is an invite-only opportunity for CodePath students; you can learn more here. Please visit our sponsors page for more information on opportunities to attend the Fair as a company partner.