5 Early Tech Career Hacks From Tony Fadell, Inventor Of The iPhone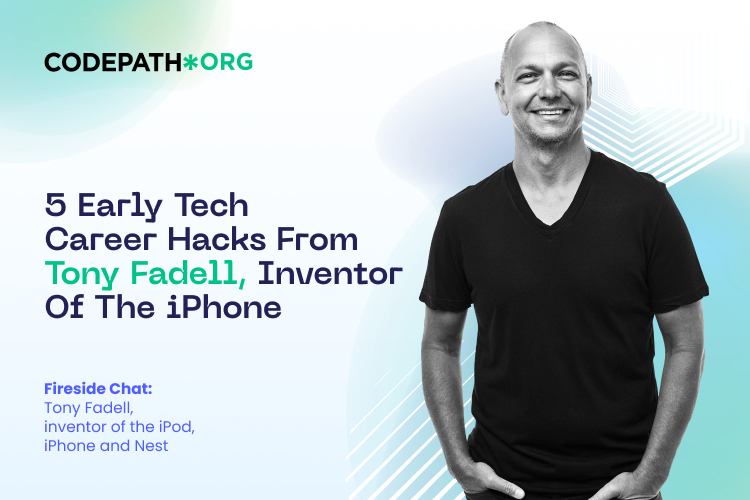 At CodePath, we believe to be the best you have to learn from the best. Recently, over 330 CodePath students had the opportunity to learn directly from Tony Fadell, the inventor of the iPod, iPhone, and Nest. Watch the event recap here.
When it comes to technology, there are few innovators more influential than Mr. Fadell. Throughout his 30+ year Silicon Valley career, Fadell has authored more than 300 patents. Fadell is also the Principal at Future Shape, a global investment and advisory firm coaching 200+ startups working on foundational deep technology.
Fadell recently released his latest book, Build: An Unorthodox Guide To Making Things Worth Making. In a recent virtual fireside chat with Tim Lee, CTO and Co-founder at CodePath, Fadell expanded upon the wisdom shared in his new book, as well as spoke to the challenges early career developers face.
Here are some of the most impactful takeaways from this discussion:
1. Build To Solve Problems
"If you're going to throw your time, energy, and youth at a company, try to join one that's not just making a better mousetrap. Find a business that's starting a revolution."
Fadell jump started the conversation and showcased his expertise in tech products with his very honest opinion of Meta's VR products thus far: "It's overpriced, underpowered, and it doesn't have enough battery life. It is a toy in search of an application." He goes on to state that VR and AR are great - when you're actually solving a pain point.
Solving for a pain point is THE key to building something great, explained Fadell. "Don't spend your valuable days and time on this planet creating things that just create more problems. Start fixing problems like the climate crisis, global health, and societal issues."
In your early career, Fadell recommends starting or joining a company that's "starting a revolution." He explained that a company likely to make a substantial change in the status quo has the following characteristics:
The company is creating a product or service that's wholly new or combines existing technology in a novel way that the competition can't make or even understand.

This product solves a problem—a real pain point—that a lot of customers experience daily. There should be an existing large market.

The novel technology can deliver on the company vision—not just within the product but also the infrastructure, platforms, and systems that support it.

Leadership is not dogmatic about what the solution looks like and is willing to adapt to their customers' needs.

It's thinking about a problem or a customer need in a way you've never heard before, but which makes perfect sense once you hear it




Fadell added that revolutionary companies aren't just a Silicon Valley phenomenon. are popping up in every industry—in agriculture, drug discovery and creation, finance and insurance—in every part of the world.
His advice? "Take whatever job you can at one of those companies."
2. Always Have A Mentor
"You need to have a mentor who can help you understand how to get the best out of yourself."
During the event, Fadell spoke often about the importance of mentorship at every stage of life. Great mentorship, according to Fadell, comes from people who can really help you "separate the wheat from the chaff" on how to build businesses and understand the human nature of businesses.
He made it clear that a mentor might not be familiar with your industry, but they will know how to navigate the human side of a business. "The best mentor that I have ever had," said Fadell, "was Bill Campbell. Bill didn't know anything about technology, but he knew everything about human nature."
Campbell was a great mentor because he helped Fadell understand how to communicate his innovations and get teams motivated.
3. Challenge Yourself
"Now's the time to take the risks, when's the last time you jumped out of a plane?"
Fadell reminded students that in a meaningful tech career, you're going to be constantly learning and challenging yourself. However, when you are just starting out in your career is the best time to take risks.
"Now's the time to work," Fadell told the audience. "Right now, I'm traveling around the world, meeting great people, and doing the best work of my life. I'm here because I invested my time back in the early days. I was working hard and experienced failures for 10 years straight – but I was learning."
4. Learn From Failure
"With each failure, I chose to start from scratch. I took all that I'd learned and did something completely new – I became someone completely new."
Fadell continued on the topic of failure, telling the audience that his life has swung wildly between success and failure – incredible career highs immediately followed by bitter disappointment.
According to Fadell, General Magic (a Mountain Valley-based software and electronics company co-founded in 1990 by Bill Atkinson, Andy Hertzfeld, and Marc Porat) was his chance to learn everything he could possibly want to know, and the opportunity of a lifetime to work with his heroes.
"It was my first real job," said Fadell, "and my first real chance to change the world."
However, the company failed. Fadell spent the next ten years getting "kicked in the stomach" by Silicon Valley before he achieved his first major success. "In the process I learned a lot of hard, painful, wonderful, stupid, useful lessons."
5. Be Persistent
"The key is persistence and being helpful. Not just asking for something, but offering something."
Understand the subdisciplines and see who leads the one you're most interested in. Fadell emphasized that his voracious appetite for knowledge and reading helped him quickly identify and get in touch with leaders in his field.
"Find the people who are the best of the best and try to work with them." He continues, "That doesn't mean stalking Elon Musk if you're into electric cars. Instead, look at who reports to him, who reports to them, and which competing company would kill to hire those people."
Fadell suggests finding experts on Twitter or YouTube, sending them a message or a LinkedIn connection. "You're interested in the same things, you have the same passions—so share your point of view, ask a smart question."
Fadell closed by reminding the audience to not just ask for things from industry leaders, but also offer how you can support them. "You always have something to offer if you're curious and engaged," said Fadell. "Trade and barter good ideas – you can always be kind and find a way to help."
Want to learn more from the best minds in technology? CodePath courses are taught by developers at today's leading tech companies. Click here to learn more and sign up!