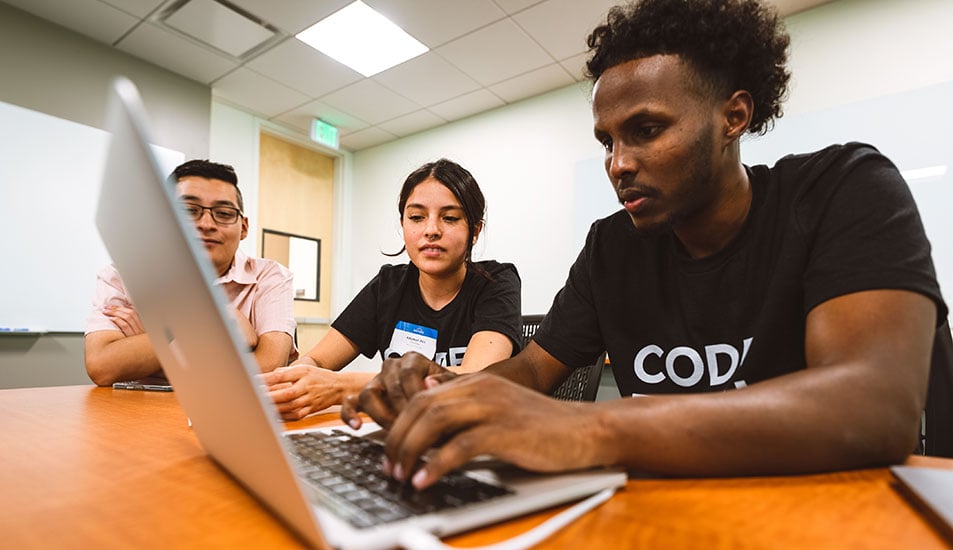 CodePath has received a $15 million gift from philanthropist MacKenzie Scott — the largest single gift in the organization's history — recognizing the nonprofit's work to reprogram higher education and provide students with opportunities to achieve tech excellence.
The donation will enable CodePath to accelerate work toward the organization's goal of reaching all college computer science students in the United States with innovative and industry-leading coursework, internship experience and career support — ultimately shaping the tech leaders of tomorrow.
"We're deeply grateful to receive this gift, which will further catalyze CodePath's work to create the most diverse generation of software engineers, CTOs and founders," said Michael Ellison, CodePath's co-founder and CEO. "Through this generous unrestricted funding, we will invest in our organizational infrastructure to have a deeper economic impact in communities across the country and embed AI technologies across our curriculum and strategy — we will both reimagine what the computer science degree should be and ensure diverse talent helps drive innovation and progress forward."
Jobs that require a computing degree and technical expertise are one of the nation's top sources of new wages and an effective path to economic mobility. But employment statistics show that minority and underserved college students have the largest historic barriers to success in tech. For example, while Black employees make up 13 percent of the workforce, they account for only four percent of tech workers — and even though Hispanic workers make up 17 percent of the workforce, they hold just eight percent of STEM jobs.
Over the next 20 years, three million new software engineers will enter the tech industry. To reflect the country's growing diverse population, one million Black, Hispanic and Indigenous students must be launched into competitive technical careers. CodePath is leading the way in meeting this goal, by providing these students with the tools they need for success, including industry-relevant knowledge, connections, specific hard and soft skills, and an understanding of how to navigate the job search and technical interview.
To date, CodePath has reached more than 20,000 students, and has alumni from 500 colleges working at 2,000 companies — 64 percent of the organization's alumni are Black, Latino/a, Indigenous, low-income, or first-generation.