CodePath Students Visit the New York Stock exchange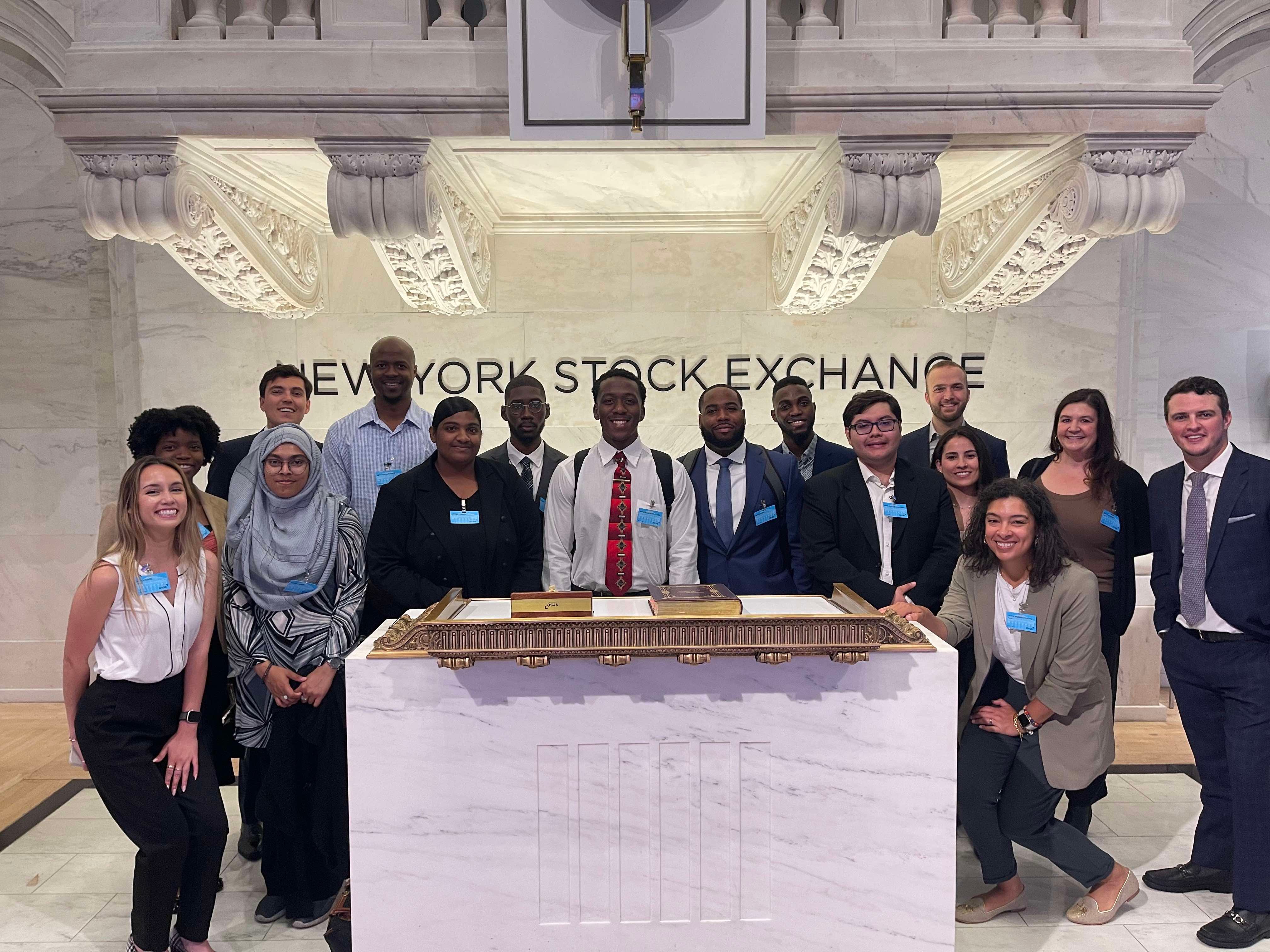 Recently, ten CodePath computer science students from local CUNY schools stepped into the exciting world of finance and technology at the New York Stock Exchange (NYSE.)
Alongside CodePath partners Base10 and DriveWealth, the students took part in the grand opening bell ceremony and actively engaged in a tour of the facilities. The visit was an opportunity for students to see the financial system at work while learning about the tools needed to develop financial literacy skills and become well-rounded leaders.
"After having the amazing opportunity to walk the NYSE floor and speak with the great minds that enable its systems to run as it does, I realized that no matter the area of work, technology is still involved," said Raymond Rogers, a CodePath student. "I noticed just how important the security of these systems are. With the ability to make massive shifts in the global market, a robust and well-vetted security structure is in-demand for organizations and institutions such as the NYSE."
The DriveWealth tour guides led the group around the stock exchange, where students experienced the energy of the trading floor while learning about the history of the building. But the visit wasn't just about sightseeing. The students gained insight into how technology has transformed finance and how their computer science skills can contribute to the future of innovation in fintech.
Students met the team at DriveWealth's booth to learn how their team works. DriveWealth offers a digital trading platform that provides brokerage capabilities to connect customers and more frequent, and more profitable, transactions. During the tour, members of the DriveWealth team discussed the value of internships, how practical experiences can enhance learning, and the importance of building meaningful relationships in your field.
"DriveWealth's mission is to democratize investing. We want everyone — no matter the size of their bank account — to be able to make investments in their future. That said, it's hard to take risks or know how to begin without support," said Robert Cortright, DriveWealth CEO. "We love working with our partners to ensure they have the data and resources to pass along to their customers so they can use our tools in a beneficial and informed way."
The NYSE visit was a testament to CodePath's commitment to shaping the future tech innovators of tomorrow. We know that technical skills alone aren't enough to succeed and that exposure to financial education can catapult both personal and professional growth.
CodePath's events and partnerships are designed to give students all the tools they need to navigate their computer science journey, from developing skills like financial literacy to providing mentorship and networking opportunities.
"Before taking a CodePath course, I always told myself that I wanted to dig in, dive deep and make much more of my understanding in cybersecurity. Within the first week of CodePath's intermediate cybersecurity course, I was given the opportunity to do exactly that," said Rogers. "I have been able to get hands-on experience in actively exploiting vulnerable systems while learning how to prevent and mitigate such attacks. I am now working an internship with a well acclaimed consultant firm where I find myself referencing knowledge gained from the very course that helped propel me further."