CodePath's Career Fair Connects Tech Firms with Top BIPOC CS Students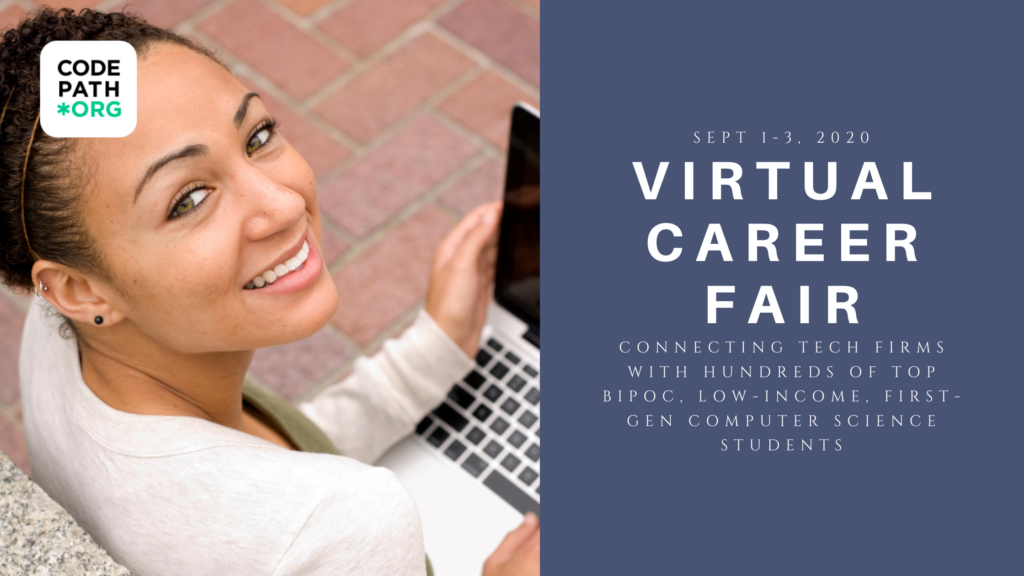 Virtual Career Fair will help accelerate minority engineering recruitment at dozens of major tech companies
CodePath.org, a national nonprofit working to close equity gaps in technology by rebuilding computer science education for underrepresented groups, today announced that over 500 college students will participate in its largest-ever Virtual Career Fair. The career fair, which will take place from Sept. 1-3, will connect top computer science students from across the country with recruiters from 40 major tech employers for a total of 3,200 first-round interviews.
Now in its fourth year, the Virtual Career Fair matches students enrolled in CodePath.org's free, industry-backed software engineering courses with recruiters at top tech companies for live interviews. CodePath leverages extensive skills data to connect recruiters with applicants who closely meet their hiring needs. Ninety-five percent of participating students are underrepresented minorities or women—representing more than 200 colleges across the country, including Howard University, Mount Holyoke College, the University of Texas and Purdue University.
"We know that BIPOC, low-income, and female students are often overlooked in the hiring process; persistent resume and experience biases bar so much of our top engineering talent from even getting a foot in the door," said Michael Ellison, co-founder and CEO of CodePath.org. "By evaluating each company's hiring needs, building up a wealth of competency data, and training students to master the technical interview, CodePath has created a new model for sourcing and evaluating underrepresented talent. And it's working."
An analysis of 160 students who participated in the 2019 Virtual Career Fair, which was released in July, found that 43% of Black and Latinx students received technical job or internship offers, as opposed to 16% of Black computer science graduates and 12% of Latinx graduates nationally. Additionally, 35% of first-generation students who participated in the 2019 Virtual Career Fair received technical work experience.
The top-level sponsors of the 2020 Virtual Career Fair are:
Amazon
Bloomberg
Federal Reserve Bank of Atlanta
Intuit
Microsoft
Riot Games
Robinhood
SAP
Travelers
Unity Technologies
Verisk
Verys
Workday
While the tech industry is facing a 500,000 worker talent shortage, 4.41% of software developers are Black and just 4.99% are Hispanic, according to data from the US Census Bureau's American Community Survey. CodePath.org is working to close these gaps by providing free, industry-aligned software engineering training to underrepresented students.
CodePath.org runs free computer science courses developed in partnerships with top technology firms for college students. CodePath has offered its courses—spanning topics like introductory software engineering, app development, and cybersecurity—on 150 college campuses. In addition to personalized training, all courses include career preparation, networking opportunities, and industry mentors.