CodePath to Expand Cybersecurity Course Offerings at Community Colleges with Microsoft TEALS Program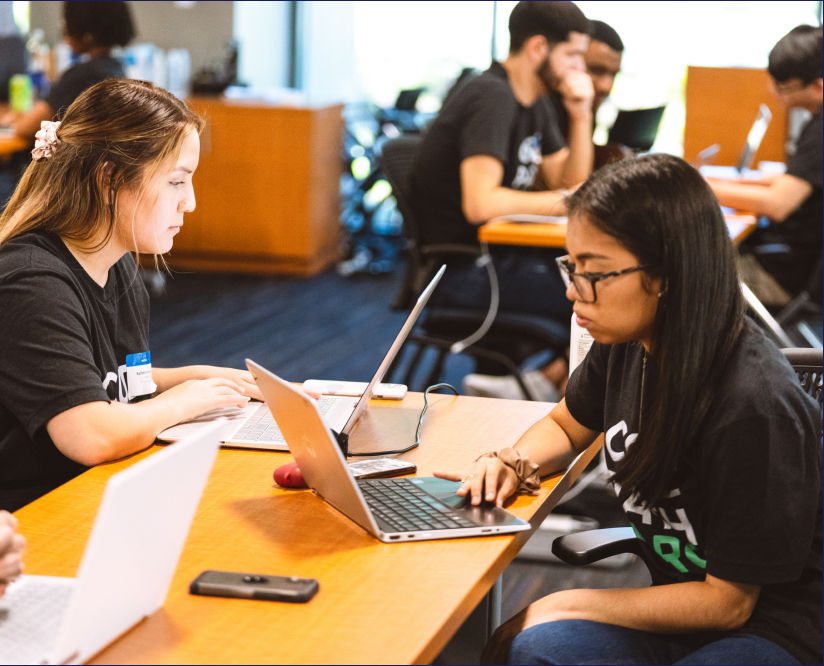 CodePath is working to expand access to real-world cybersecurity skills for community college students across the United States with the Microsoft Technology Education and Learning Support (TEALS) Program. The collaboration combines the strengths of both organizations to create a one-of-a-kind learning experience that empowers students with industry-relevant skills, mentorship and career support at no cost to colleges or individuals.
This initiative — which will focus on underrepresented students — includes key features such as grading support for student assignments; pairing professors with industry professionals for curriculum support and classroom instruction; and access to a 24/7 online support community for students.
"The tech industry as a whole struggles with diversity, and the cybersecurity field especially has a lot of work to do — with recent data showing that only 26% of all cybersecurity jobs are held by racial and ethnic minorities," said Dana Ledyard, COO at CodePath. "Over the past year, CodePath has seen the number of Black, Latino/a and Indigenous students enrolled in its cybersecurity courses increase to 54%, and our work with Microsoft TEALS will expand opportunities for more students to gain skills needed to succeed in a fast-growing field."
Rapidly advancing artificial intelligence that can more quickly find and exploit vulnerabilities in systems will only increase the country's need for a skilled cybersecurity workforce — and CodePath's industry-backed curriculum is updated annually to ensure that students receive the latest insights and tools to excel in the field of cybersecurity.
"We are delighted to announce our collaboration with CodePath, marking the beginning of our shared mission to bolster the cybersecurity programs at community colleges," said Naria Santa Lucia, General Manager, Digital Inclusion and Field at Microsoft. "In an era where cyber threats are relentless and ever-changing, this partnership harnesses our organizations' combined expertise and resources to enhance the pivotal role of community colleges in cybersecurity education. Together, we aim to empower educators, nurture a new generation of skilled professionals, and bridge the vast cybersecurity skills gap."
CodePath is committed to making a lasting impact, ensuring that every interested student has access to the skills and support needed to succeed in fields like cybersecurity and opening doors to new career prospects for students around the country.
"CodePath supported my learning journey by providing challenges that were essential to build my skills and experience," said Eyobe Abay, a student at Merritt College in Oakland, Calif. "The cybersecurity skills I have acquired provide a solid foundation for my career."
For more information on CodePath and our work with the Microsoft TEALS program, please visit www.codepath.org/teals.
---
About CodePath
CodePath is reprogramming higher education to create the most diverse generation of engineers, CTOs and founders. With over 20,000 students and alumni from 500 colleges now working at 2,000 companies, we are reshaping the tech workforce and the industries of the future. CodePath is supported by Amazon, Andreessen Horowitz, Ballmer Group, Blue Meridian Partners, Comcast, GitLab Foundation, Google, Iconiq Capital, JPMorgan Chase, Knight Foundation, MacKenzie Scott, Meta, Microsoft, New Profit Foundation, Salesforce, and Walmart, among others. To learn more, visit www.codepath.org.
About Microsoft TEALS
Technology Education and Learning Support (TEALS) is a Microsoft Philanthropies program that believes all students should have equitable access to inclusive computer science education, creating a pathway to economic opportunity. The program builds sustainable computer science programs in schools, with a focus on serving students excluded from learning CS because of race, gender, or geography. TEALS helps classroom teachers learn to teach computer science on their own by pairing them with industry volunteers and proven curricula. Since its inception in 2009, over 100,000 high school students have received CS education through TEALS.