Find Your Pathway to Entrepreneurship
CodePath students learn best practices to launch a startup from seasoned entrepreneurs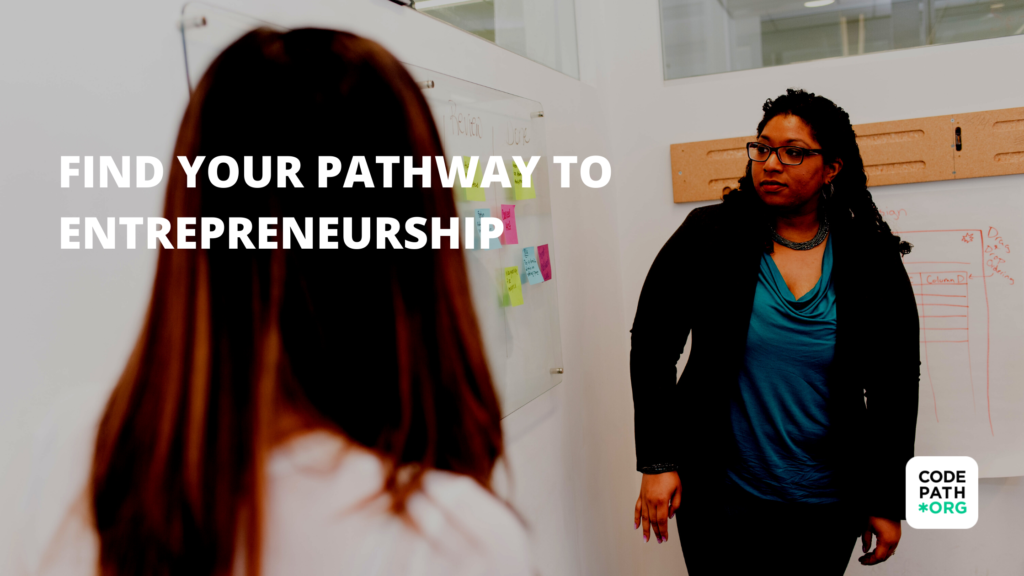 TL;DR
Students should leverage their undergraduate education and university resources to launch their startup
It is important for emerging entrepreneurs to define business values and focus on customer feedback
Underrepresented minorities are encouraged to connect with communities that focus on providing support to underrepresented minorities
Entrepreneurship can sound like an intimidating venture for a student who is balancing school and startup life. For this reason, CodePath hosted an industry event to help emerging student entrepreneurs turn their great ideas into successful companies. Many topics were discussed during the panel including tips on how to launch a startup and ways to convert common struggles into successes. Our panel consisted of emerging and seasoned entrepreneurs from across the country, including:
Oznur Aytekin, Founder at Edhabit
Omar Duran, Founder at LIFE3
Nathan McMinn, CTO at Conserv
Rushabh Mehta, Founder at Matchbook Services
Hallie Salko, Founder at Bluppy Al
Saba Tshibaka, Founder at Rendered Inc.
Here are some key insights to help guide emerging entrepreneurs:
Leverage your education
To start, the panel encouraged students to pursue education with a purpose. Many startups begin as a hobby or passion project. While in school, students can leverage undergraduate projects to develop and troubleshoot potential business ideas. These projects can develop into a proof of concept to present to future investors. Students should take advantage of school resources and networks. Many colleges and universities offer offices solely dedicated to supporting student entrepreneurs. These offices offer resources, networks, and professional development opportunities. The panel stressed an advanced degree is not necessary to become a successful entrepreneur, but encouraged students to take continuing education classes specifically in finance and accounting. There are free online certificate programs available to help students expand their skill set. To add to undergraduate education, the panel strongly suggested students gain real world experience through internships at startup companies. Internships help students apply business theories learned in the classroom and help develop valuable industry connections.
Focus on your customers and define your values
Customers are the key to a successful business so it is important that entrepreneurs know their customer base. Nathan McMinn, CTO at Conserv, strongly encouraged students to start by interviewing people who fit the company's ideal customer profile. McMinn spent the first six months interviewing potential customers to determine common pain points. From these interviews, he developed valuable business solutions. Saba Tshibaka of Rendered Inc. further stressed that students know the difference between their customer and their community. Community represents individuals who support you which may include family and friends. This group may or may not financially support your product or service. Customers are individuals who are willing to pay for products or services. Once customers have been identified, Tshibaka encouraged students to survey them often. Surveying and interviewing customers are the best way to get direct feedback and help you pivot your business idea if necessary. The panel also had this piece of advice for aspiring entrepreneurs: before launching a business or even creating a business plan, you must define your values because they will ultimately shape your business going forward. Tshibaka further explained that customer feedback helps emerging entrepreneurs define company values and guide company strategy.
Connect with specialized communities
Minority and women entrepreneurs face a number of challenges breaking into entrepreneurship. These challenges include a lack of access to funding, marketing, work-life balance, building a network, and much more. The only way to break this cycle is to not give up. Panelists encouraged students to not allow challenges to discourage their success. Minority students should connect with professional communities that specifically focus on providing resources for underrepresented populations. Also, don't allow non diverse programs to discourage participation. Be persistent by continuing to take action. Underrepresented students can take the first step by filling out applications and letting program advisors and funders know the value they bring to the industry.
We hope this conversation sparks further discussion about the startup climate. To hear more about the panel's personal journeys and hard-won wisdom, listen to the full conversation. To gain more guidance and expand your network, join CodePath's one-on-one mentoring program or attend our next industry event.