How Gino Rey Found His Path to a Technical Internship at Atlassian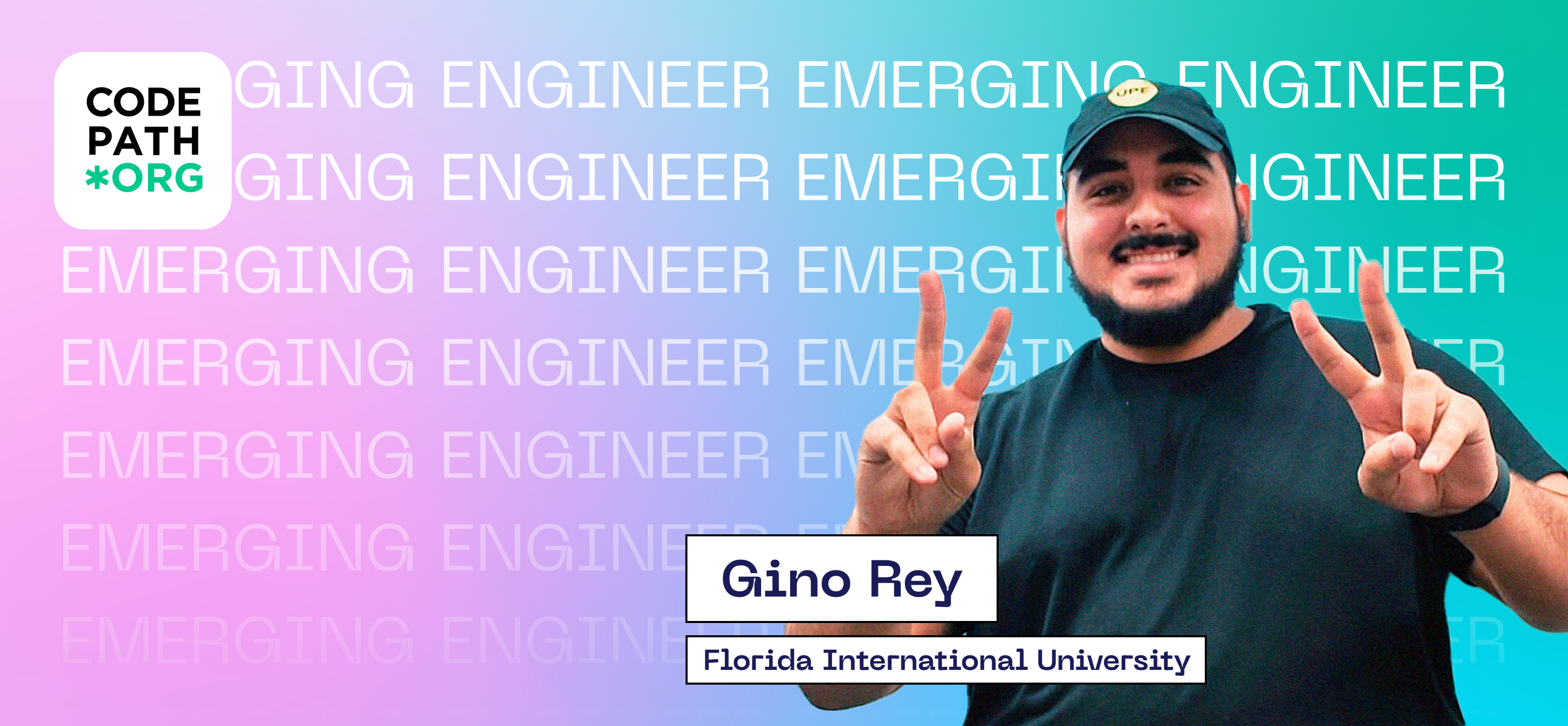 On The Path is an interview series with CodePath's student community, highlighting our student's stories, accomplishments, and journeys to becoming technologists.
Gino Rey, a student at Florida International University, is an only child born to two busy Cuban immigrants. Growing up, Gino spent much of his free time in front of the computer, despite his parents' best efforts to push him towards other hobbies.
"You know how parents are, they always try to push you towards what they think is best, but sometimes they don't say it in the best way," Gino recalled. "My dad would say, 'Why don't you do something else? Why don't you find something useful to do on the computer?'"
Back in Cuba, Gino's extended family comprised various medical professionals, including vascular surgeons and a dentist, so naturally, his parents edged him toward a medical degree. Gino obliged briefly and began studying pre-med at Florida International University for about two years before losing interest. After taking a gap year, Gino switched to law but soon learned after interning at a law firm that the profession wasn't for him. However, there was one small moment that unknowingly changed his life forever.
"It was so boring," Gino admitted. "But I had an experience at that law office while using their case management software that was so bad. It was so so bad. I remember thinking to myself: 'How hard could it be to make something like this?' I said to myself: 'I'm gonna try to do this.' So I went home and started learning."
What was the first project you created that made you realize you needed to pursue a career in tech?
I always liked building with my hands, making things, and I always loved computers.
My first project was super simple: six lines of code [to create a] password generator. Then I realized this was what I wanted to do. It was so incredible that I could write into the computer what I wanted it to do, and it'll be able to do exactly what I told it to. It was a lightbulb switch. From that point on, I dropped everything else that I was doing. I knew that this was what I wanna do with the rest of my life.
What challenges did you face as you got more involved in computer science, especially as a first-generation Latino student?
Honestly, the biggest blocker was the community aspect of computer science. When you start doing something by yourself, it's very difficult to learn everything.
I feel like there has to be support around you, and when I found INIT and CodePath specifically, I just felt like I wasn't alone.
I realized there are other people that look like me, and it was the first time I felt like I was around other people that I could truly, truly connect with.
Tell me more about your experience with CodePath.
I found CodePath through INIT. I went online to look for computer science clubs and found Init's Discord, and the first person I spoke to was their founder. I realized quickly that this was the community I wanted to be a part of, and in that chat, there was an "Opportunities" channel. They had internships and fellowships; one of them was CodePath's courses for the summer.
I applied, took Intro to Software Engineering, and then Technical Interview Prep, which really prepared me for the fall.
If it wasn't for that chain of events, I would not have been able to secure an internship [with Atlassian] by the summer.
How do you feel now that you've found a home in the computer science community with INIT and CodePath?
I can honestly say that this past year has been the best year of my life in almost every aspect.
I've met so many cool people, and it's like I would wake up, and there would be this fog. Then INIT and CodePath cleared the fog to show me what my path was. I can clearly see what the next steps are, when before, I just felt lost. I didn't know what I wanted to do, and I didn't know how to proceed, and that's why organizations like INIT and CodePath are so important because they provide that insight you don't have.
How could I have known how to do all this as a first-generation student? I couldn't have; there's no way. There are just too many things against you; unless you find a community like INIT or CodePath, it's so much harder.
Like Gino, students get to explore different tech pathways at CodePath while finding their community. You can customize your path here.