How Kat Kime Landed Tech Internships Offers from Intuit, PlayStation, and LinkedIn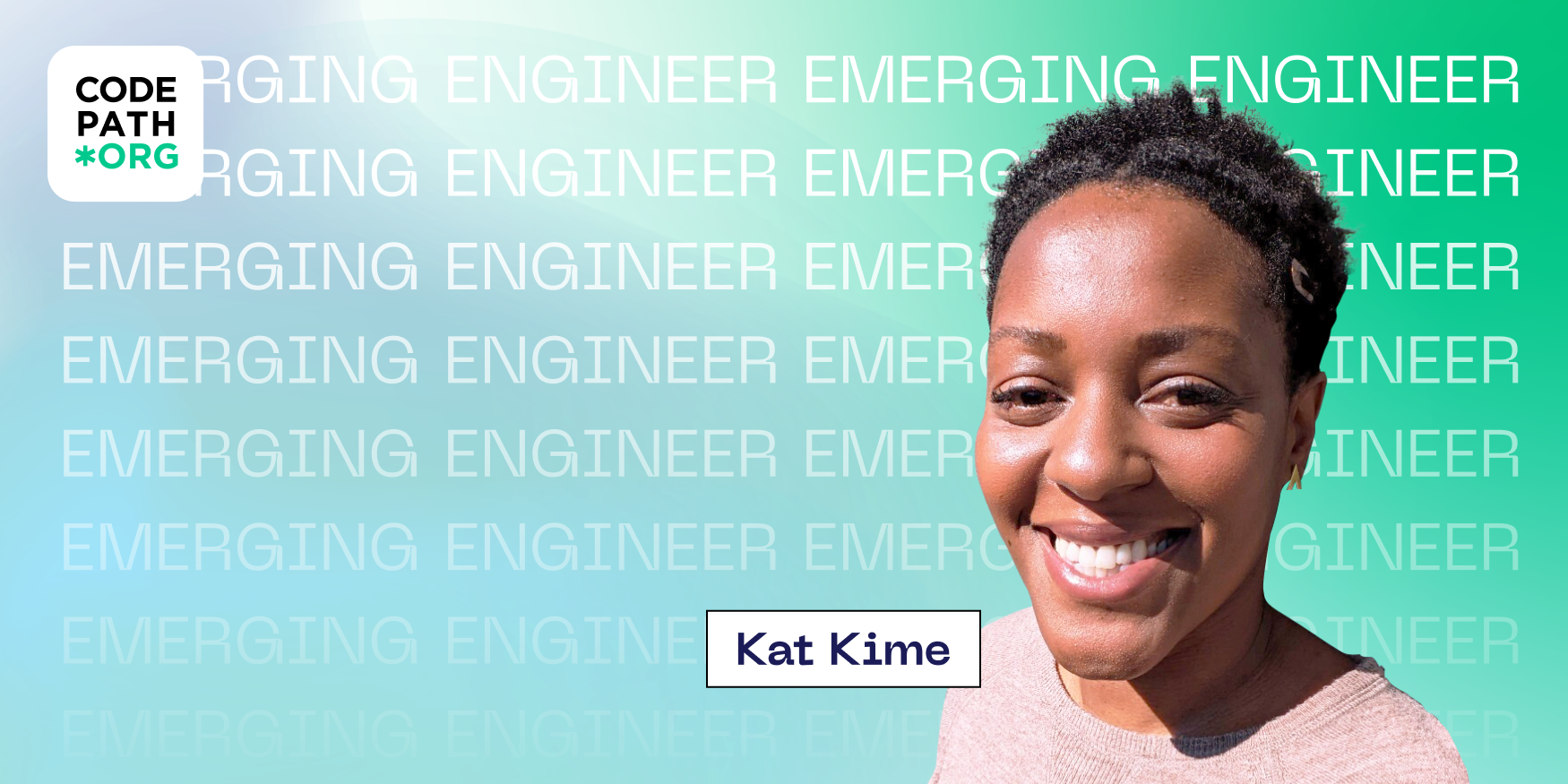 On The Path is an interview series with CodePath's student community, highlighting our student's stories, accomplishments, and journeys to becoming technologists.
When Kat Kime started her career in economics in 2011, she knew it wasn't her passion, but The Great Recession of 2008 had decimated the job market, and she needed to pay her bills. As time went on, her interest shifted toward computer science, so she enrolled in a program at Oregon State University to learn the ins and outs of this new industry. After taking some classes, Kat felt motivated to land her first big internship, but the process proved to be more difficult than she anticipated.
"What I realized was that the type of interviews they did in this industry I just wasn't familiar with," Kat said. "I had no strategy for how to approach them. So a friend in the program highly recommended CodePath's Technical Interview Prep Program, and it was great because they had all the information I was missing."
After taking summer courses with CodePath, Kat's future had never looked brighter. Since graduating from the program, Kat has been offered multiple internships with competitive tech companies. She accepted her first job offer this year at a "great company I'm happy to be joining." Kat accredits all of this success to CodePath's diverse mentors and supportive community, and she's proud to be a TA within the nonprofit.
"If you're an underrepresented minority, it's crucial to have people that look like you," Kat said. "It's so important to have people that look like you to make you feel like you belong."
How did CodePath become a part of your life at Oregon State University?
After taking Computer Science night classes, I thought, "ok, I think I have enough information to start applying for jobs," and so I did and got no success. In one of the first jobs I interviewed for at PlayStation, the guy was nice enough, but he was like, "Look, you're great, we love your energy and everything, but we need someone with more experience." I realized I wasn't familiar with the types of interviews they did in this industry. I had no strategy for how to approach them. So a friend in the program highly recommended CodePath's Technical Interview Prep Program, and it was a great time because they had all the information I was missing.
How did CodePath help you specifically?
CodePath provided the framework in terms of going through the interview. You're solving these algorithms in your pods [with other students] who grow to be your friends, so it felt like a safe environment to solve these problems.
You could make mistakes, learn from them and keep progressing.
Then at the end, CodePath had a virtual career fair, and because of it, I got two internship offers, one of which I ended up accepting. I even applied back to PlayStation, and they ended up offering me an internship too! I couldn't have done that without CodePath, and I know that because I tried. It was a testament to how effective their teaching is.
We, at one point, had two instructors –one of which was an Android Engineer at Netflix and another from Instacart.
What I loved about it was that both of them were women; one of them was a Black woman, and it was great seeing people that looked like me in this industry presenting this technical information.
That experience of being trained and mentored by people in the industry was very inspiring, and it made me see myself as part of this industry.
Would you have been able to get to this point without CodePath?
I would have been able to find a job at some point, but the jobs available to me now versus the jobs available to me before enrolling in CodePath's training I don't think I would have gotten. For example, I got a new-grad offer (full-time employment) from Disney Plus, and internship offers from LinkedIn and Meta –all of which would not have been available to me without CodePath. One of the great things about CodePath is that even if you don't get accepted into their program, you still have access to their materials. I joined their intermediate program and applied to the advanced program but didn't get in, but I still got all the materials! Like for free, zero dollars.
CodePath wants you to be successful.
What have you learned in your journey that you deem invaluable for students curious about CodePath?
You can do things alone, but it's a lot more fun and effective if you do it together.
We're obviously all competing against one another, but I felt we were in the trenches together, all working hard, which made it more effective. That's something I learned with CodePath; doing these things with the support of mentors and peers is the most effective way to be successful.
Need help navigating the technical interview process? Learn more about our Technical Interview Prep course.