Machine and deep learning: Career lessons from seasoned professionals
Virtual industry panels connect CodePath's computer science student community with tech leaders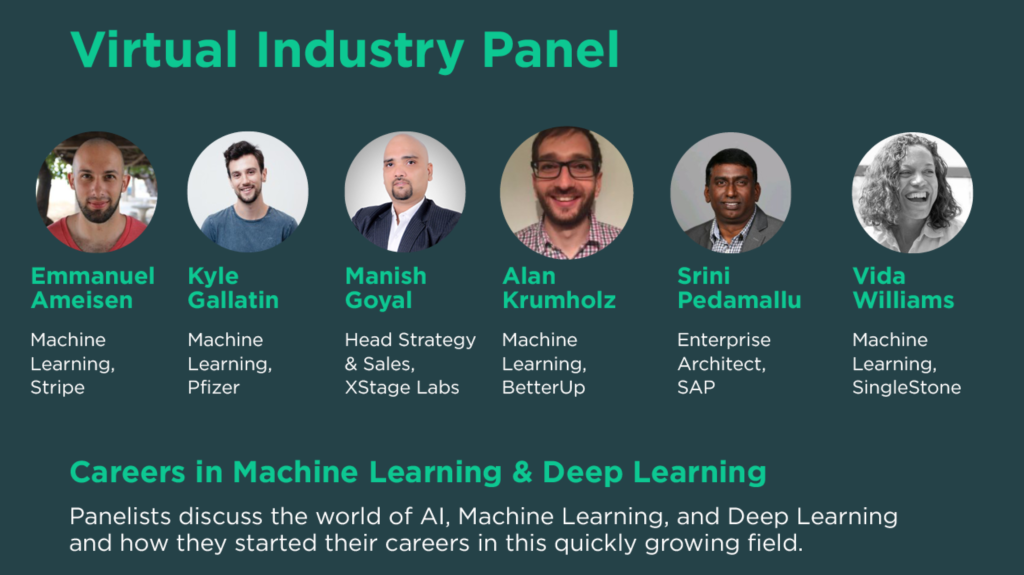 TL;DR
Machine learning experts from Stripe, Pfizer, Xtage Labs, SAP, and SingleStone shared valuable career advice with CodePath's students.
It's not just about the degree and technical skills. Success in machine and deep learning also requires effective communication and empathy.
Start early, be persistent, and gain experience through real-world projects.
"Keep showing up and keep showing your value"
This is a small, but mighty piece of advice that Vida Williams of SingleStone Consulting shared with over 100 students who attended CodePath's "Careers in Machine and Deep Learning" virtual panel. Each quarter, CodePath hosts virtual events to expose students to new topics and trends in the tech industry. Led by CodePath's Head of Career Services Morgan Richardson, CodePath assembled five of tech's brightest professionals to dialogue with students about emerging trends and careers in machine learning.
So, what does it take to secure a career in machine learning?
In today's competitive climate, a computer science degree is not always necessary for students to succeed. Our panel advised that industry-leading companies look for students who hold more than technical skills to join their teams. They are in search of students who can complete technical tasks and translate data into layman's terms to support company strategy. Additionally, students who do not hold degrees can prove their value through hard work and creativity. Students who are working towards a degree in computer science can leverage their education by taking classes focused on human behavior.
During the panel, professionals from the business and technical side of the industry inclined students to start early and be persistent. Srini Pedamallu of SAP empowered students to build experience by choosing companies with access to large data infrastructures. From there, conduct research and develop a project that delivers real-world solutions to those problems. Our panel also strongly suggested students use internship opportunities to narrow down the variety of career paths.
At CodePath, we are committed to supporting the next generation of tech talent. A special thank you to our panel of professionals who provided key insights to our students looking to make their mark in the field.
To dive deeper into the discussion, please click here to view the full recording.
If you are a prospective student, visit https://codepath.org/classes to enroll in upcoming courses or sign-up to learn more about future events and industry panels.