Meet Gabriela Gonzalez: How Did Three Decisions Land Her A Dream Career In Tech?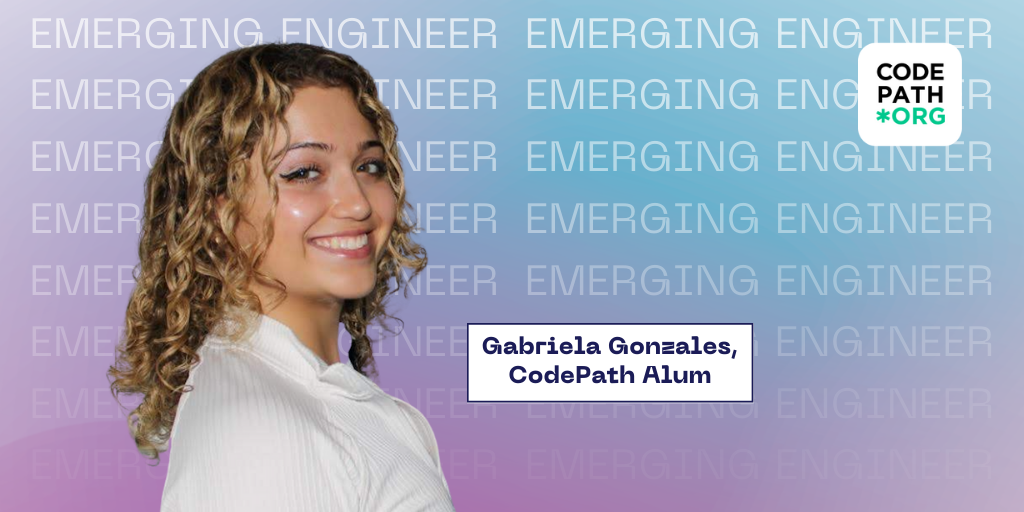 Gabriela Gonzalez, a first-generation Cuban-American, grew up in a low-income family and learned Spanish before she spoke English. She excelled in solving math and science puzzles but never considered the possibility of a coding or tech career.
That all changed when she joined CodePath. Gabriela will start a full-time software engineering (SWE) position when she graduates with her BS degree in Computer Science. She credits her success to three decisions: enrolling in CodePath's Technical Interview Prep course, signing up for the Internship Connection Program, and engaging with the CodePath Career Center.
The start of a journey
When Gabriela was in sixth grade, some classmates were playing with HTML puzzles in the computer lab. "They tried to teach me," Gabriela recalled, "but I didn't see anyone that looked like me, so I just thought it wasn't for me."
It wasn't until high school and acceptance into the Carnegie Mellon summer pre-college program that Gabriela first learned computer science:
"They gave kids a full ride for the summer… it was empowering. I saw people who looked like me, acted like me, and had similar backgrounds. It wasn't just white guys from privileged backgrounds, and it was really important for me to learn to code in that environment because it made me realize how cool this field is."
Building the foundation
Through an internet search, Gabriela discovered CodePath and thought, "This is exactly what I need."
She explains, "I didn't have the resources or expertise to land the first job I would like, and it's not like I had a mom or dad to help me get a job anywhere. "CodePath really helped me not just to get the knowledge I needed to land a coding interview and ace it but to feel I could belong in this industry.
I loved that the people teaching us the curriculum were actual engineers with similar experiences and backgrounds to me. Not only did we get super relevant teaching, but we also got timely advice. They were truly there to support me as an individual and a human. The message really came through, and in the way, it needed to."
Building connections
Inspired by this experience, Gabriela wanted to find an internship for the summer but didn't know where to start. She joined the Internship Connection Program in the Winter of 2022, and it proved to be a game changer:
"I really was lost!" Gabriela remembers.
"CodePath provided me with the information and connections I needed to make sense of the process.
I was able to talk directly with company sponsors, and I realized it's just a human connection… that was a huge confidence boost. Suddenly I had people who looked like me, had similar experiences, and were telling me it would be okay."
"I had felt like this career just wasn't for me, but CodePath completely destroyed that idea. They made me realize it's entirely possible. There are a lot of people like me doing well in my field."
Launching a SWE Career
Through the CodePath Career Center, Gabriela was matched with Alteryx, one of CodePath's company partners, and landed a Summer 2022 internship.
As a Software Engineering Intern at Alteryx, Gabriela had the opportunity to work hands-on on projects and, just as important, found the community, network, and culture she needed to succeed.
"Everyone was super diverse!" she shared. "Not just racially or ethnically, but also in perspectives and backgrounds. That was super refreshing, and I always learned so much. I felt challenged but very well supported."
Following the internship, Gabriela received a return offer to join Alteryx in a full-time SWE role when she graduates with her BS degree in Computer Science from Columbia University. She hopes to mentor other Latina women looking to break into tech and advises them to find a support group, especially for the toughest days. "It's not going to be easy," she said. "I was really lucky I found that backing, and now I've found a company where I feel like I belong."
Looking for new, supportive pathways to tech? Find your personal pathway to tech with CodePath.