Excellence At Scale: Inaugural SITE Program Demonstrates Benefit For Both Underrepresented Students And Corporate Engineering Teams
One of the reasons diversity in technology is such a daunting challenge is that it cannot be simply fixed by new internal processes or policies – it is a systemic problem. Additionally, many view having the most talented tech team and having the most diverse tech team as mutually exclusive. With our latest program offering, we prove that removing systemic blocks that keep underrepresented talent from reaching their goals is not only possible, but also a means of ensuring your company gets access to the best tech talent.
In 2021 CodePath launched the Summer Internship for Tech Excellence (SITE) program to address a key component in the lack of minority and low-income presence in technology – access. More specifically, early access to coveted internships at tech companies.
Early Access Matters
For most employers, 75% of their entry-level technology hires come from internship programs, which are usually offered to rising seniors. However, research has shown that underrepresented students in computer science drop out or switch majors before their junior year. This means that students of color and low-income students, in particular, are missing out on internships they need to stay engaged in their studies, make connections, garner references, and launch their tech careers.
In a paper entitled "Improving Underrepresented Minority Student Persistence in STEM," the authors posit key recommendations to increase URM persistence in STEM at the undergraduate level, including "creating strategic partnerships with programs that create lift." CodePath's SITE program is precisely one such program.
SITE uniquely provides these internships earlier than most other corporate programs, therefore offering underrepresented minorities access to coveted internships, as well as real-world experience that will keep them dedicated to completing their computer science degree.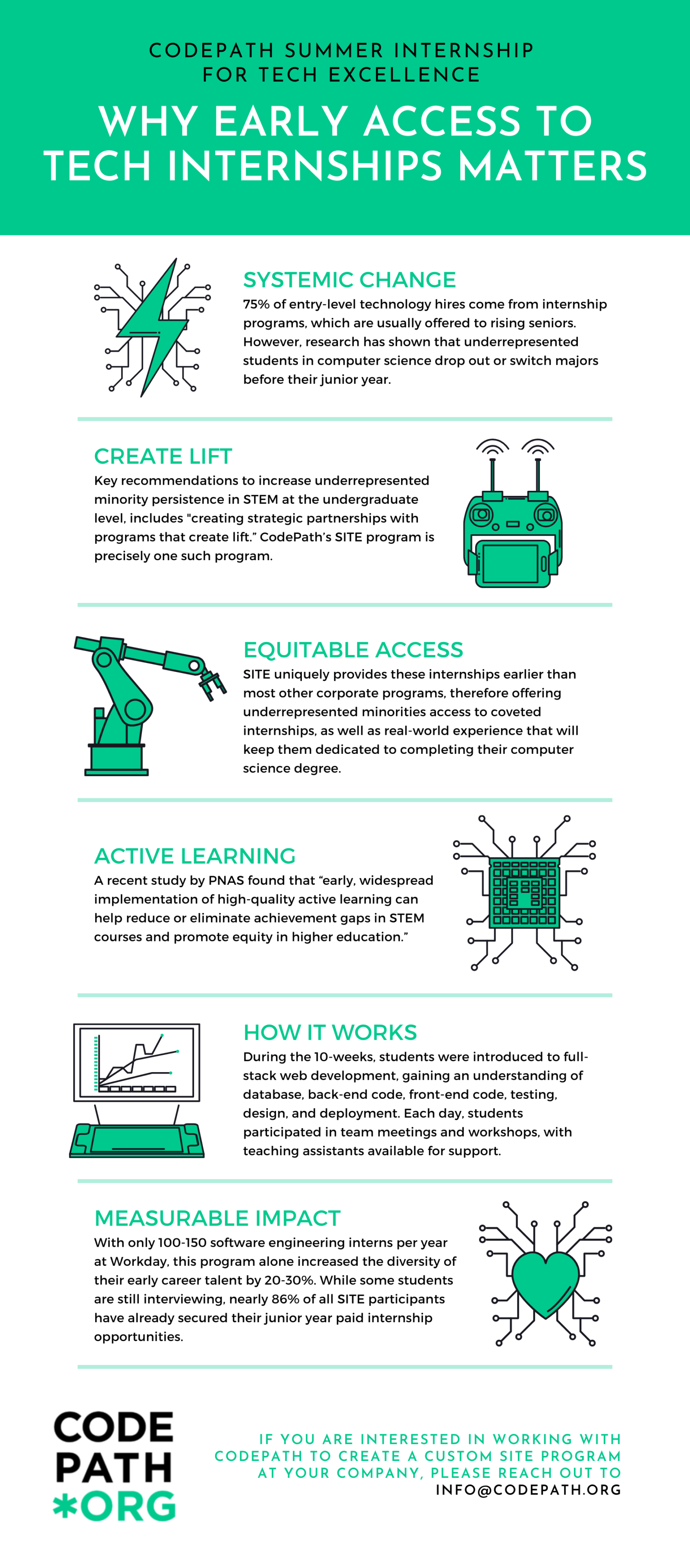 Earlier access to active learning benefits all students, but offers disproportionate benefits for individuals from underrepresented groups. In fact, a recent study by PNAS found that "early, widespread implementation of high-quality active learning can help reduce or eliminate achievement gaps in STEM courses and promote equity in higher education."
Providing the necessary access to underrepresented students to meet their aspirations for tech excellence also benefits employers. Time and time again, research has shown that diversity and inclusion build high performing teams. Additionally, having more underrepresented talent on your team actually makes your technology better, more accurate, and more effective – this is especially true for emerging and deep technologies.
Measurable Impact For Underrepresented Students And Engineering Teams
For our inaugural SITE program, CodePath partnered with Fortune 500 company Workday and edtech unicorn Course Hero to offer a 10-week hands-on program that gave students relevant technical work experience and weekly mentorship by Workday/Course Hero's engineering teams.
During the 10-weeks, students were introduced to full-stack web development, gaining an understanding of database, back-end code, front-end code, testing, design, and deployment. Each day, students participated in team meetings and workshops, with teaching assistants available for support.
Students who completed the program shared positive feedback about feeling increased confidence in their technical skills and a sense of belonging in the tech community, and were highly impressed by the quality of the CodePath instructional team, Workday/Course Hero mentors, and their fellow interns.
"You truly cultivated a supportive community where underrepresented students have a chance to learn, be supported, and exercise our newfound skills," said one SITE program graduate. "It was a transformative experience, as I feel more prepared to pursue a career in software engineering and to continue my education."
SITE graduate Obehi Ehimen said of the program, "I learned that there are so many diverse careers in tech, whether you like art, research, data/numbers, security, etc. Talking to everyone I encountered during this program helped broaden my mind for the numerous opportunities I have in this industry and helped me realize how important diversity is in my life."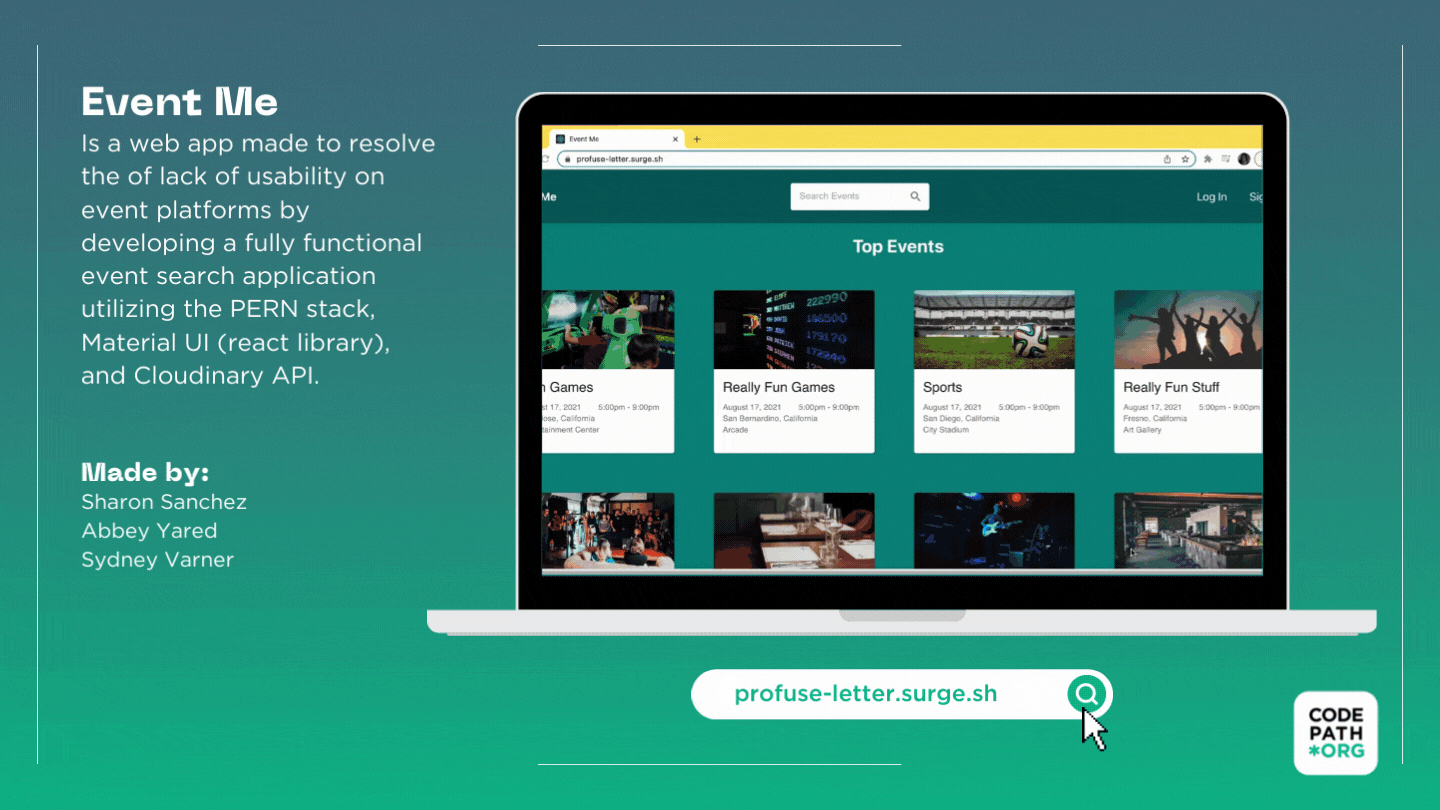 During the second half of the program, students formed groups to develop a capstone project of their own design. At the end of the program, graduates demonstrated their tech excellence to employers by sharing their projects in a virtual "Demo Day." Students shined with projects such as "Event Me" that solved the problem of lack of usability on event platforms by developing a fully functional event search application utilizing the PERN stack, Material UI (react library), and Cloudinary API.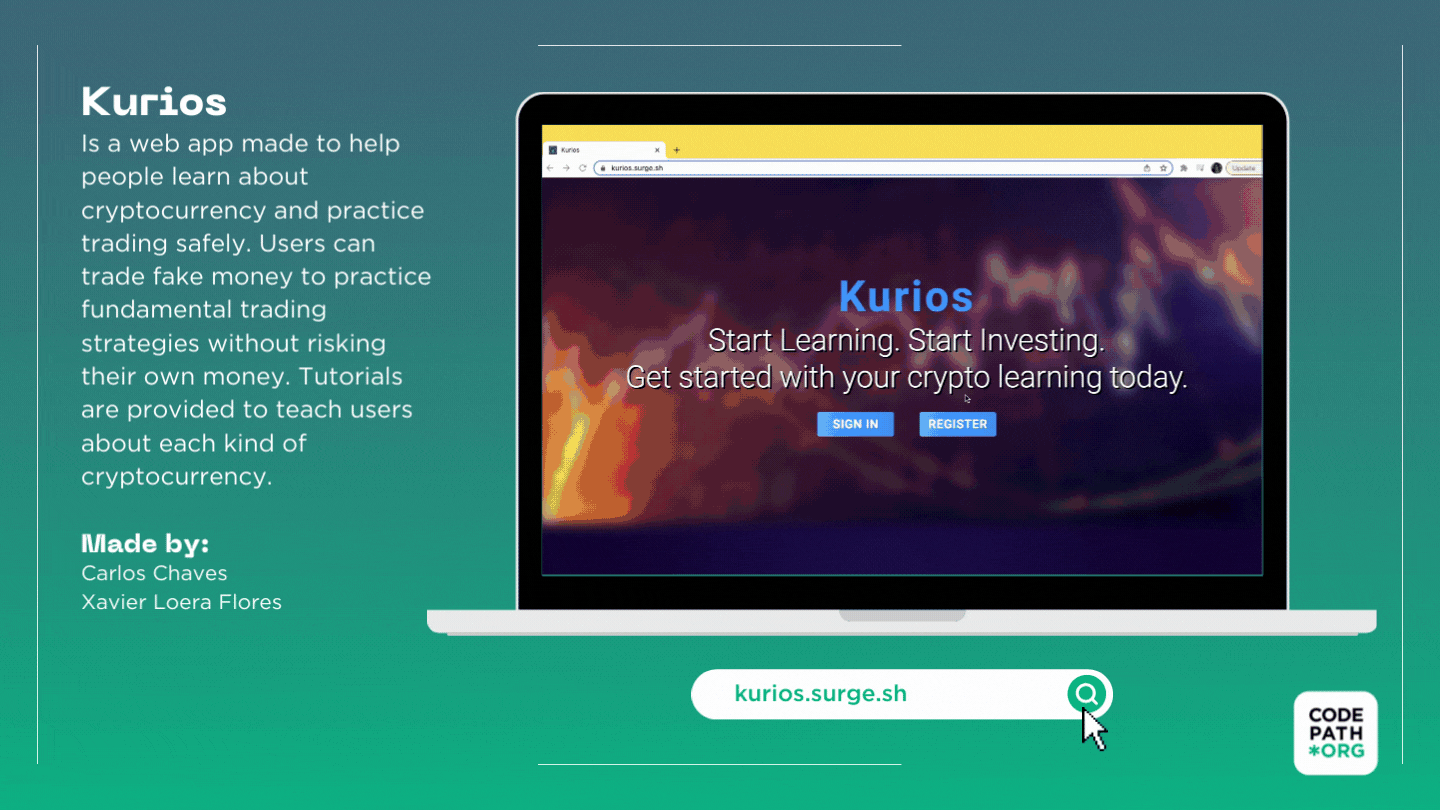 Another student project, Kurios, solved the problem of the lack of cryptocurrency and blockchain knowledge among the general public. The students built an innovative and user-friendly platform for newbies to cryptocurrency to trade safely while they learn about this emerging technology. The Kurios team filmed a professional demo of the platform that you can view along with all of the impressive student presentations via the video below.
Student led projects like these are important in encouraging the entrepreneurial spirit, a crucial trait for excellent tech hires, in all SITE participants. The level of talent demonstrated in these projects points to CodePath's unique focus on both diversity, as well as recruiting and cultivating tech excellence. It is CodePath's view that this blended focus makes our students some of the best available talent for engineering teams of all sizes.
CodePath's SITE program has already impacted diversity, inclusion and value in the tech workplace. Both partner organizations have been ecstatic about the quality of talent provided by CodePath and the potential impact this program may bring to advance equity in the workplace. SITE enabled Workday and Coursehero to implement diversity hiring at scale within the organization, meet DEI commitments, and nurture highly qualified candidates to join their engineering teams.
"If there's one thing I'm sure of about the future of work, it's the crucial role that interns play in creating a robust and diverse pipeline of talent," said Caroline Miller Cunningham, Director, Global University Talent Acquisition at Workday. "Investing in the next generation of talent also supports Workday's commitment to opening up more opportunities to underrepresented talent at every level."
While some students are still interviewing, nearly 86% of all SITE participants have already secured their junior year paid internship opportunities.
SITE Makes Tech Excellence At Scale A Reality
Developing both diversity and tech excellence at scale is no longer a far-off goal. With research-backed and precisely executed programs such as SITE that address systemic issues at the core of tech's diversity crisis, bringing more diverse, top talent with unique perspectives to your engineering team is as simple as partnering with CodePath. If you are interested in working with CodePath to create a custom SITE program at your company, please reach out to info@codepath.org to schedule a meeting with our team.
Given this program's early success, we are excited to announce applications for the 2022 SITE program are now open!